Providing elder care solutions for an aging population
This company was founded with one purpose: to help people find retirement homes.
The premise that informed this was straightforward: we have an aging population who will need more care, the current retirement home industry is highly competitive, and as a result there is a sales and referral model in place that is costly to retirement homes.
The question that needed to be asked: can a stronger understanding of the market and market forces uncover new opportunies to capture market share within the elder care industry?
Mapping the customer journey towards a better understanding of the market
We outlined a journey mapping exercise that could guide us in better understanding market threats and opportunities. While we explored a series of use cases, mapping the journey for an adult child looking for support for an ailing parent became the priority once it was undertood that this was the majority decision-maker in choosing a retirement home.
The journey map itself details customer journey stages, tasks, players and stakeholders at each stage of the journey, thoughts and feelings, and outlines how our client could align with the customer journey to provide better, more compelling service.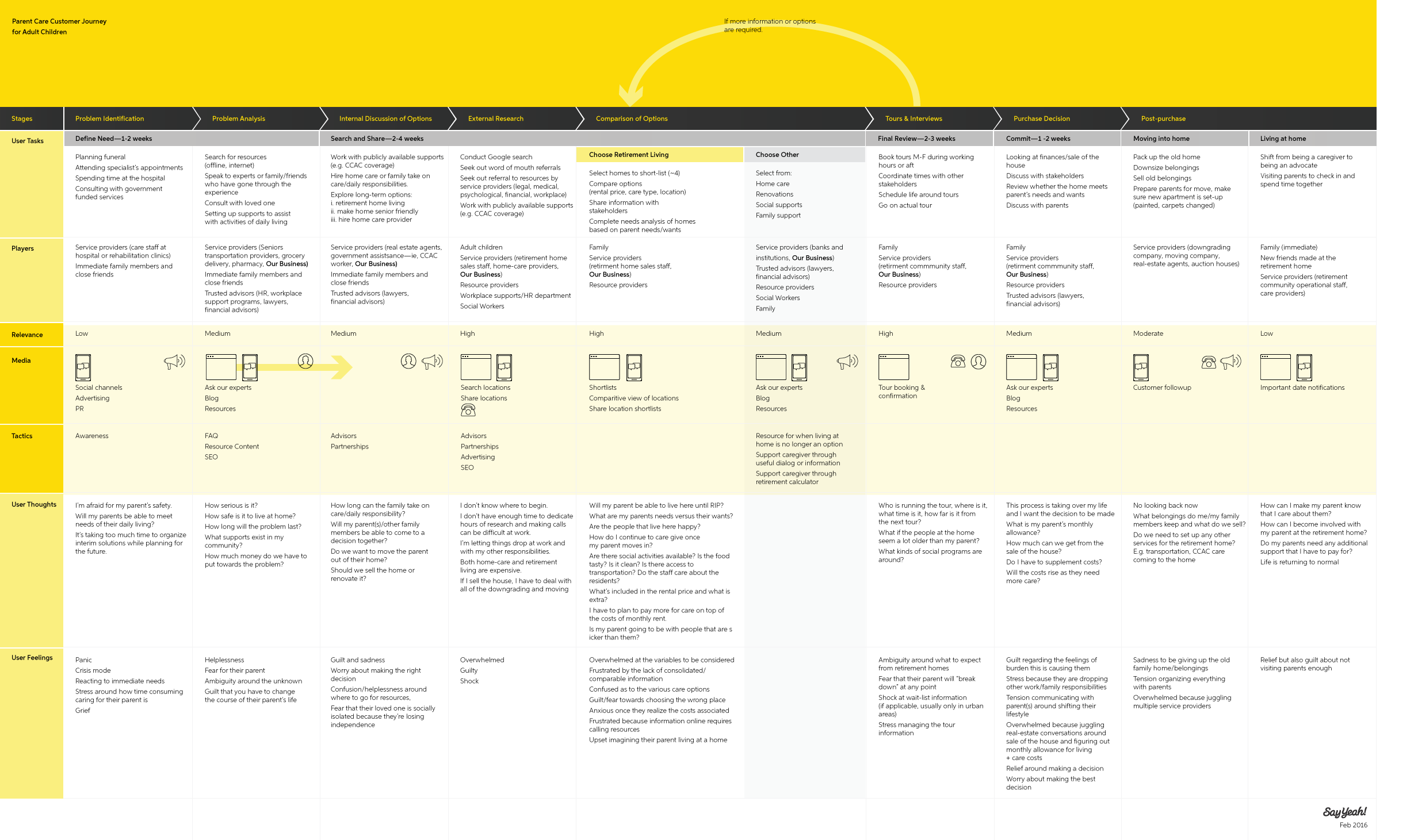 Tap the image to enlarge or download the customer journey map.
The key consideration in this process: mapping the customer journey from the customer's point of view.
Too often, organizations consider only those stages and ways they are already working with a customer or market, ignoring or missing steps where they are not involved. By understanding the decision-making journey from the customer's point of veiw, we can clarify additional factors in their process and ask how we might be more involved along the way.
In this journey map example, there's a strong understanding of market forces, the players in the market, a clear opportunity for revenue, growth, and profit. There are, however, a few missing pieces to the client's current business model that become clear through this journey mapping process.
---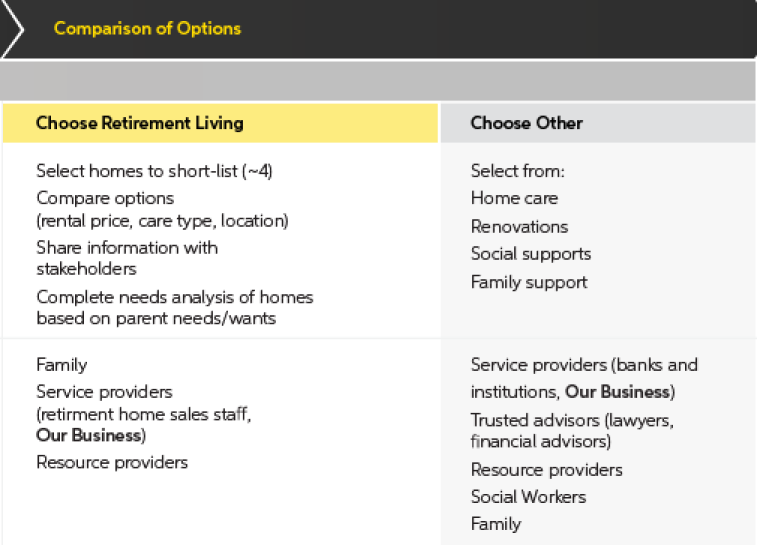 Their initial business premise is validated: by shifting the industry to a subscription-based model, led by an online marketplace, this business could carve out a significant piece of profit in the elder care industry by providing far more value to retirement homes at less cost.
But let's explore a key finding: there are a number of options consumers have in addition to retirement homes.
Customers seeking elder care for a loved one can:
Get in-home care;
Renovate their home to make it more suitable for an ailing, elderly parent; or
Access other support structures through social assistance, family support, and more.
With this understanding of consumer options, it becomes clear that there are actually three business opportunities here, not just one.
Results: uncovering new market opportuities that reduce risk and increase revenue
Knowing those business opportunities exist, what our client needed to decide was whether they were in the retirement home referral business or the elderly care referral business.
And with a clear understanding of market forces across Canada—which include the government promoting home care over hospitals and homes, and a diminishing middle class who may not be able to afford retirement home care—this organization can start to work towards protecting their business by expanding their services to better meet market these newly understood needs and opportunities.
This is the kind of insight you can only find by looking at the decision-making process from your customer's point of view. And we excel at the research, analysis, customer journey mapping, and coaching that brings these insights to organizations like yours.
Are you ready to leverage digital transformation consulting to improve customer experience and service delivery?