This week's release of iOS 9 includes a number of wonderful enhancements and has been accompanied with a number of great app updates from a slew of developers.
Let's take a look at some highlights.
1. Transit Directions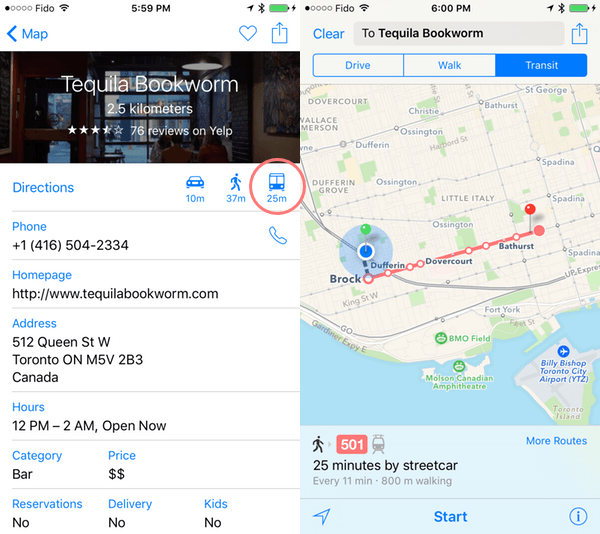 Now with iOS 9, select cities (including my hometown in Toronto) include transit directions. You can even ask Siri for help getting around!
Yes, Google Maps for iOS already had this, and there are great apps like Transit, but integration with Maps and Siri makes transit directions much more accessible.
2. Picture-in-Picture
As we wind down the Major League Baseball season with the Blue Jays (hopefully firmly) cemented in first place, and certainly destined for the playoffs, MLB.TV's At Bat on iOS app now includes Picture in Picture mode so you can stat hunt and game jump while watching or listening to a live feed of your favourite team.
3. Reading List Thumbnails
In addition to picture-in-picture, Instapaper's iOS 9 update now includes thumbnails alongside any article. For some folks this may just be a little bit of visual flare, but if you use Instapaper to organize photos at all, this is a significant benefit and brings the link saving service in line with Pocket.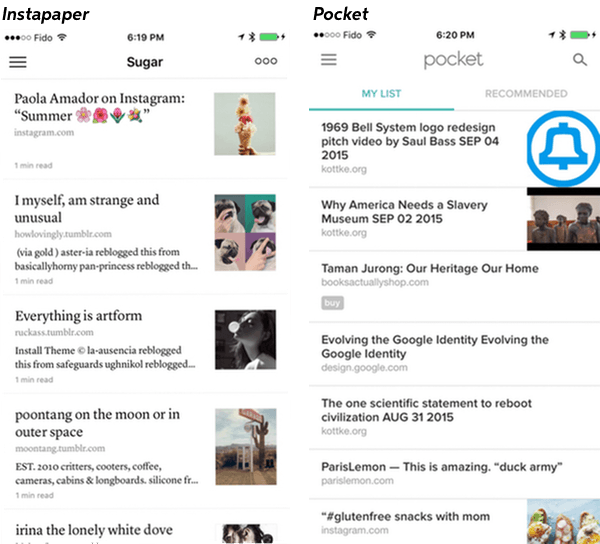 4. Ad Blockers for Safari
Yes, some people are definitely not happy with the advent of ad blocker integration in Safari for iOS, but the reality is ad networks have been burdening publishers with code that significantly slows down browsing and chews up battery life on mobile devices. This is no good for users and now we have a way to gain back our time and extend the life of our devices. For publishers, this will hopefully drive them to take control of their revenue opportunities instead of outsourcing to user-hostile third-party services.
A lot more can be said on this subject, and Marco Arment has, including this followup on "good" ads, and now his explanation for pulling his ad blocker from the app store.
I'll say this: ad blockers on iOS 9 are new, immature software, trying to undo years of bad behaviour from ad networks, site builders, and publishers. Some well-intentioned publishers are going to get caught in the cross-fire of the pretty much all-or-nothing blocking these apps offer, but my hope is that:
revenue will not dramatically be affected for well-intentioned publishers because only a small subset of users will take the time and follow the configuration requirements of setting up ad blockers.
publishers will use this opportunity to find alternatives to letting third party ad-servers overtake their site with invasive, unrelated ad content, focusing instead on how to drive value to users with sensible advertising content and methods. The opportunity now being  that publishers who move quickly can get a leg up on finding new revenue opportunities that work with their users instead of against them.
ad blockers will become mature enough to focus on omitting bad practices without undermining an entire revenue model for publishers.
Until then, here are your current ad and content blocker options (minus Marco Arment's Peace), as compiled by Dave Mark.
5. Numerous iPad Productivity Enhancements
On relatively new model iPads, you now have the ability to pop in another app on the right, essentially to respond to texts, emails, or tweets, or take a quick note, without having to jump hoops to get back to the app you were in.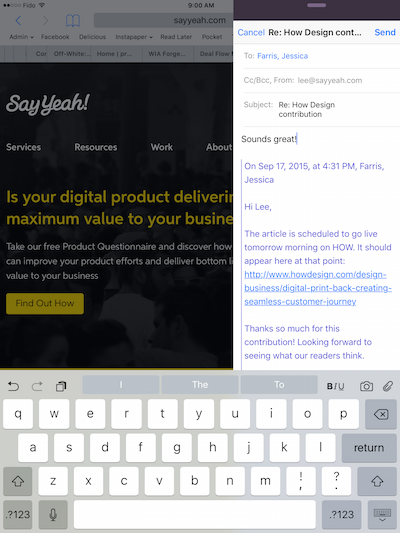 On the latest model iPads, split-screen goes a step further, as you can have two apps running side-by-side.
And, on all iPads, the keyboard now includes a number of shortcuts across the top. Plus, with two fingers on the keyboard, the ability to use the keyboard in trackpad mode to more easily navigate text areas and adjust text selections.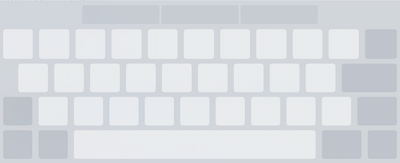 App bonus:
Many apps like Dropbox have been updated so they're searchable in Spotlight Search, and others such as IMDB now support deep linking so a web link will jump straight into the app instead of loading a page in Safari.
iPhone 6 bonus:
iMessage now includes avatars in the list of conversations so you can see who you're chatting with and not have to read each person's name. This has been conspicuously omitted since day 1 of iOS 8, seeing as avatars have always been in the OS X version of iOS, and the larger screens easily had the space. This alone is reason enough for fence sitters to upgrade.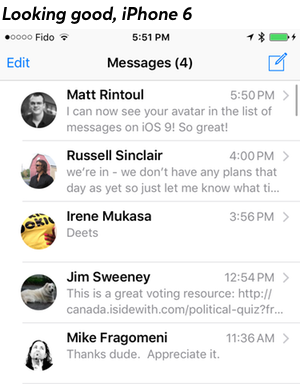 Further Reading
Interested in a comprehensive overview of iOS 9, dig into Rene Ritchie's iOS 9 Review on iMore.
Have something to add?
Reach out on Twitter. Say Yeah is @sayyeahto, and Lee is @smack416
Product strategy as a foundational skill
If you're looking to bring fundamental product strategy methodologies and execution to your team, we're here to help.