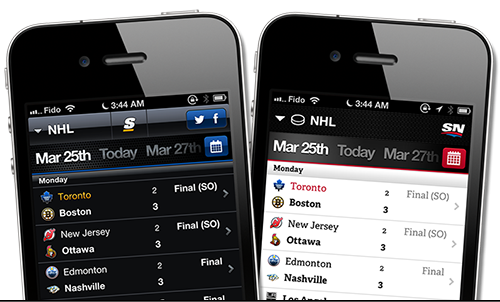 Most folks would agree theScore iPhone app is by far the best Sports app in the world. Rogers clearly agrees with that assessment, having recently acquired The Score TV network, and in the deal securing the rights to use some of theScore's digital assets.
For users of Sportnet's then relatively uninspired app, this was good news. Updating the app with theScore's technology can only make things better, right?
The New Sportsnet App
On February 22nd, 2013, Rogers introduced the updated Sportsnet app, essentially a direct copy of theScore app, with a new coat of Sportsnet paint. And with the release, the feedback began rolling in. While some of it is positive, the ratings are suffering and the negative reviews are glaring:
Bring back the previous Sportsnet app! The new app SUCKS! If Sporstnet wants to combine the personalized aspect to their news that is cool but I want the NEWS first and foremost!…

~ Trudeau is God
If I wanted an app like the Score I would just go to that one. Not impressed, missing the "latest news" section.

~ Red Devil72
…There are some stories about sports that I don't follow that I would like to read but the only way to find those stories now is to click on each sport or go to their website…

~ Sportsnet app hater
So how does a coat of paint and a change in logo take an app with 29,000 reviews and an average rating of 4.5 out of 5, to a 3 out of 5 star app with angry feedback? It comes down to customer expectations.
By design, theScore mobile app doesn't put emphasis on news. Much of theScore's news comes from newswires & external sources, rather than the recognized personalities and experts at theScore. And while individual sports news is available, it's a relatively underwhelming aspect of the app.
Design For Your Customers
This wasn't by accident or omission. The purpose of theScore's app was to focus on teams, games, standings, players, and statistics. It's designed for you to track a game when you can't watch it live and notify you of who scored when you've missed a play. The app can be customized to the sports and team preferences of each individual, so you can go beyond the games and standings to easily access the depth of team and player statistics that hide just below the surface. This focus means leaving the breaking news and opinion pieces to the many other great sources around the net and on TV.
While all the elements that make theScore's app great are still present in the Sportsnet incarnation of the app, the Sportsnet app fails to deliver on Sportsnet's core business strengths and customer expectations. Sportsnet users want and expect headline news, breaking stories, trade talk, and opinion pieces. Everything that makes Sportsnet unique and engaging is built around the journalists and analysts they employ that have the personality and style its viewers want and enjoy.
You simply can't slap your logo and colours on someone else's product and expect it to fit in with the experience your customers have come to expect.
So What Can Be Done?
For Sportsnet, the first priority should be to bring the focus back to news. Their recently redesigned and responsive website does a decent job of this1. What I would like to see is this content front and centre in their app as well. Something like this: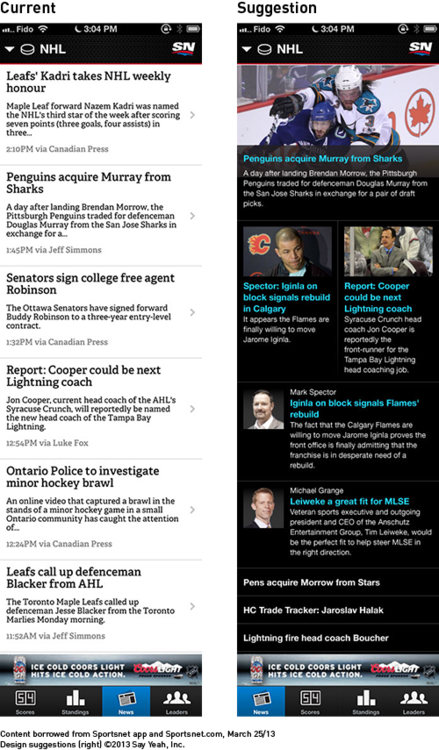 Sportsnet has the content to make this type of news page viable. And bringing their columnists to the forefront of the app would allow it to differentiate itself from its sister app, and bring back the content its users are sorely missing.
Refocus The App
An update like this would require changes to two aspects of the application.
First, create a global 'News' section that covers all sports the user is following, plus any major news events from sports they may not be following.
Second, update the news section within each sport to use the same layout. I would also update the menu to set the news as the primary item, but this is a matter of opinion. (This decision also shouldn't be taken lightly, as changing the primary navigation in an app can frustrate and confuse your users.)
These changes should help regain the trust of Sportsnet users, giving them what they expect of Sportsnet, while simultaneously putting the focus back on the value that differentiates Sportsnet from other sports networks.
Notes
1. The site actually has the opposite problem of the app, in that it hides away scores and standings.