Catch us at the virtual Fall Training Industry Conference & Expo on September 27–28!
Learning and development is a key part of growing a business, but in order to be effective, and to earn buy-in from organizational leadership, it must be strategically aligned with larger business goals. The fall TICE event offers learning professionals opportunities to connect and collaborate with industry peers as they explore ways to build an effective learning strategy that drives growth and team performance.
Factors like budgeting, needs analysis, and stakeholder communications will be explored, as well as tactics like analytics, well-defined learning outcomes, tech integration, and continuous improvement–all of which can help to ensure the sustainability and longevity of an L&D strategy.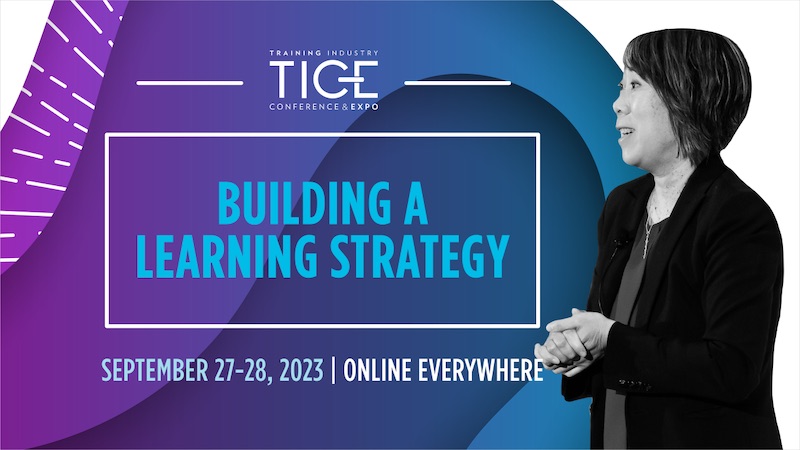 As eLearning pros passionate about helping organizations turn training into their competitive advantage, we're eager to connect with learning leaders and exchange insights on how best practices in tech + education can help enable their L&D strategies.
---
What to look forward to at the Fall Training Industry Conference & Expo (TICE)
This two-day virtual conference will feature exciting talks from 20 learning and development leaders across industries like healthcare, hospitality, technology, retail, and more. You can look forward to insights on topics like data analysis, Diversity, Equity & Inclusion (DEI), and design thinking.
For example:
---
Register today!
Don't miss out on this exciting opportunity to explore tactics to ensure L&D has a seat at your organization's decision-making table. Get tickets for access to live and on-demand sessions for $99 USD.
---
Ready to take your L&D strategy to the next level? We'd love to connect!
At Say Yeah, we're committed to executing eLearning programs that bring your learning and development strategies to life in ways that drive organizational outcomes and enhance workplace performance. 
Get in touch with us to exchange insights on how to boost your L&D strategy with tech + education tactics.