Transcript
Basing the foundation of our work on human-centered design principles, allows us to never lose sight of the fact that the human being has to use this somewhere, and we're able to focus the things that we're trying to build, the features that are going into the platform or the service, around the people that are actually using what we're creating.
So I feel like with technology, it's like a great equalizer because if you just make amazing stuff, people will want it. Like, it definitely cuts out the kind of gate-keeper syndrome, although there are still gatekeepers, so it's like if we're really trying to make the tech economy and the conversations around tech have everybody involved, I think it's critical that we make sure that those opportunities to create in tech are open.
As creatives, you know, there are a lot of tasks that are very mundane or repetitive or boring, and not really part of the strategic thinking that you've applied or studied in school, but just things you need to do in order to perform your job. So, if you could take AI and allow it to take over the more mundane processes, you'd give people more time and space to actually think strategically and be creative.
I could see the opportunity of data visualization integrating itself with more things that we see in the household, like smart speakers, or maybe when conventional AR becomes available, and we could see it augment the experiences around us. Easy example I can think of is, imagine if you're sightseeing and see a point of interest, and through data visualization, it can give you information and analytics related to that particular site, to help you view a fuller experience.
Blockchain and crypto is really new, and you need to build trust, so in order for you to do that, you need to build a very strong product that is beautiful, so there's more emphasis on the UI than at first the UX, sometimes
I go to a lot of conferences, and FITC is among my favorites. They're looking at the ways of combining science and technology, and art, and making them all one thing, because they really are one thing.
The
FITC Toronto 2018
conference shook the city, showcasing the latest in creativity and technology at Toronto's Hilton Hotel, April 8 through April 10, 2018.
Innovators, digital storytellers, product managers, technology experts, and creatives attended to hear and experience the way innovation, technology, and creativity has made a heavy impact on a variety of industries thus far, and how it will continue to evolve in the coming years.
With over 70 speakers representing the top digital, creative, and innovative companies in the world, our team has picked out some game-changing content that we'd like to share with you.
---
Going deeper with design
It was a real treat to hear from Jessica Walsh, a young and renowned designer in NYC, and co-founder of Sagmeister & Walsh. Walsh encouraged purposeful constraints that flow from research. For example, no text on billboards in India because language is so fractured among different segments of the populous. Instead, tell the story with images and you tell the story clearly to everyone.
The concept of purposeful constraints was later echoed by Matt McCue of 99u who spoke eloquently about telling great stories, encouraging storytellers to bring a clear and detailed point of view to their stories, but share just the right amount of magical outcome with the audience, rather than detailing how you got there.
"Let's deliver a point of view that can't be uncovered by the outcome."

~ Matt McCue
---
Data visualization and usage
Corey Ouellette, Data Experience Developer at Thomson Reuters, gave a great talk on data exploration and visualization considerations.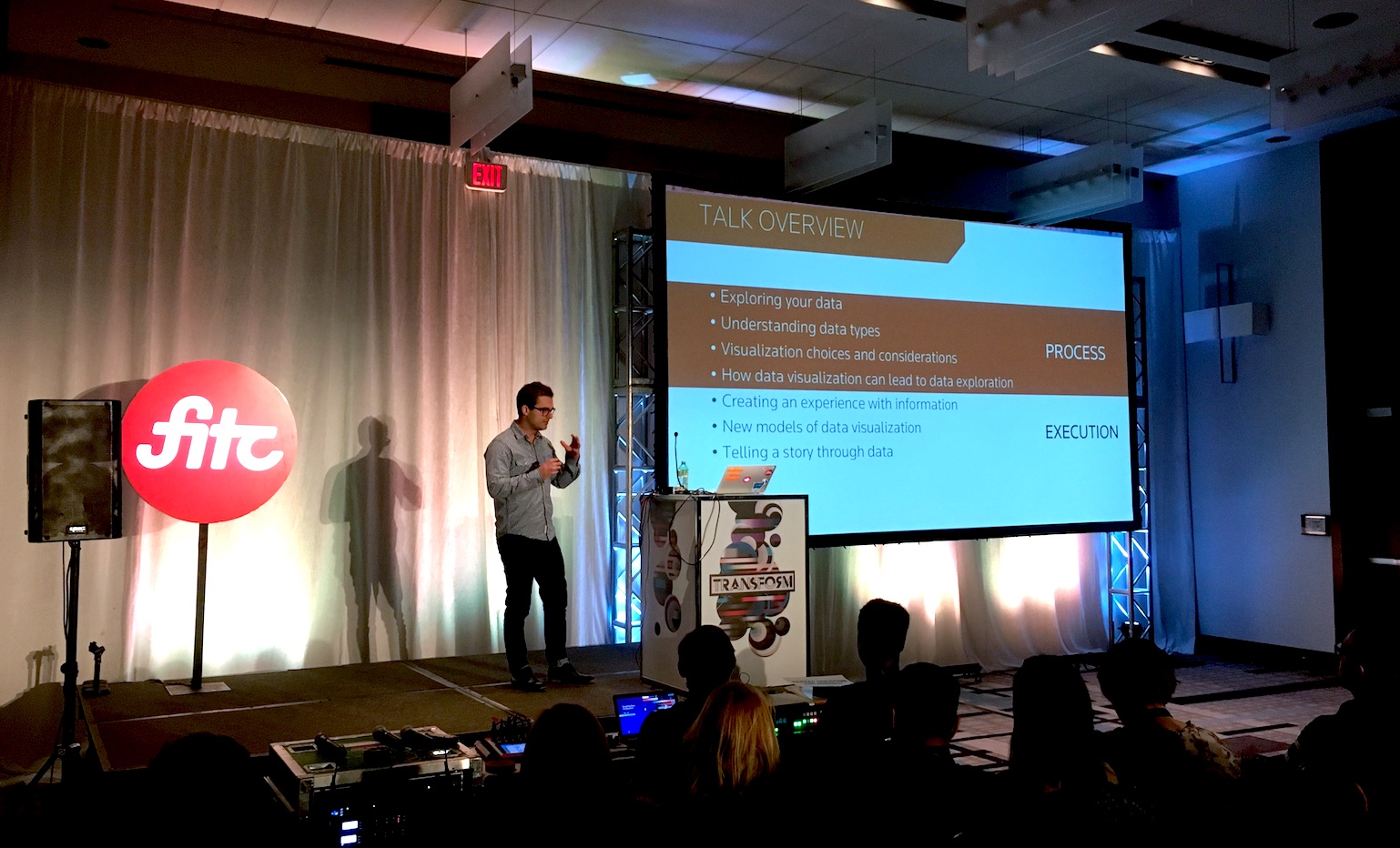 He finished his talk by challenging the audience to critically analyze their data and ask the questions, "Does the data support a hypothesis? Does the data point to something?"
He also spoke sbout using data to tell stories that engage customers and using a narrative that they would want to immerse themselves in in order to garner effective results.
---
Storytelling best practices
Creative Director Graham McDonnell from The New York Times attracted a full room of content creators, innovators, and digital practitioners in his talk, "Putting the 'Story' into Storytelling."
He expounded on six key factors to keep in mind when telling stories so that they are colourful and engaging for your audience.
Remember the five W's
Keep it clear
Promise to give the explanation
Leave something unknown
Use numbers
Keep the interesting facts at the top, don't bury them in the middle or the end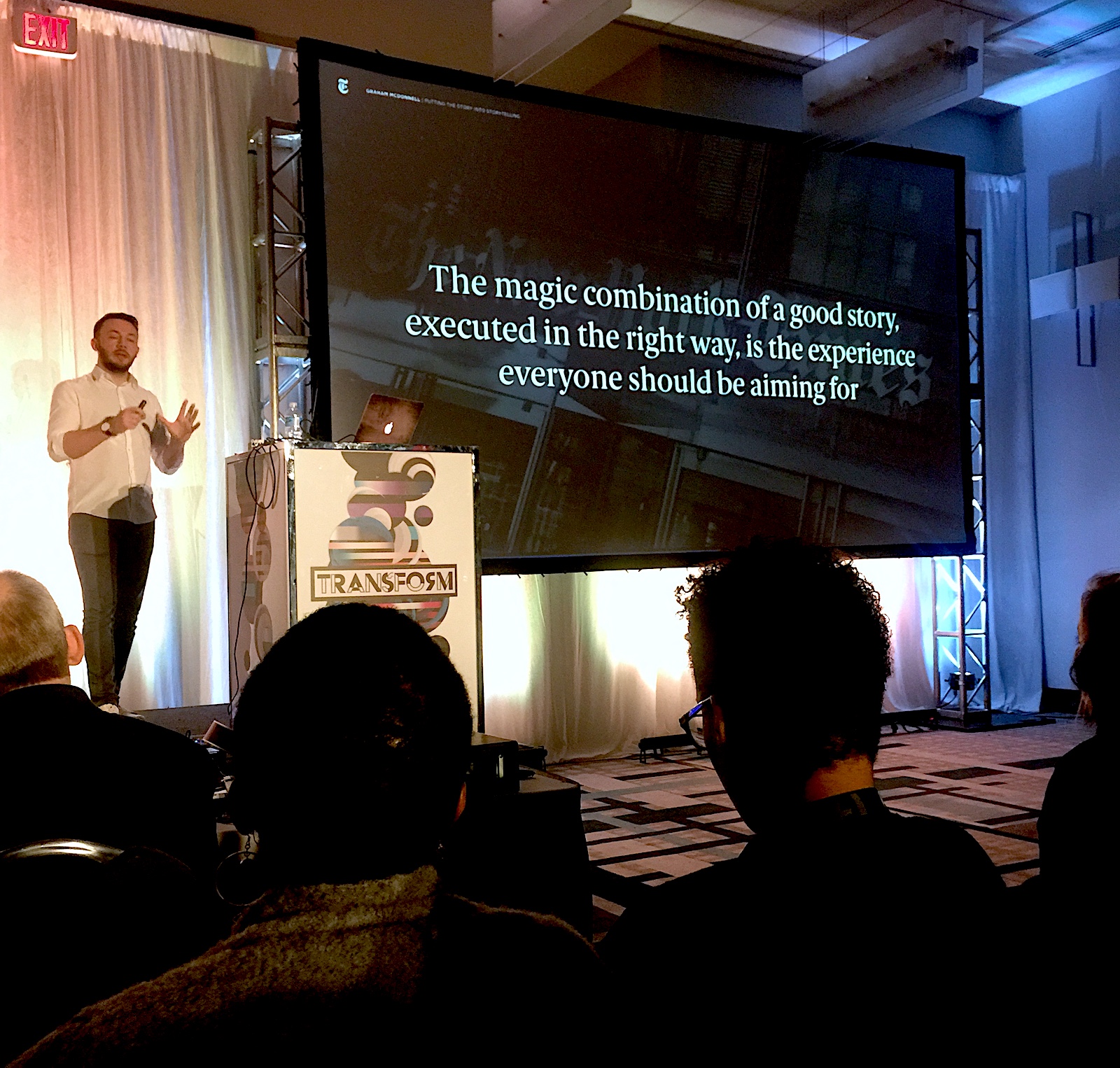 "In the word 'storytelling', the story comes before the telling."

~ Graham McDonnell, New York Times
Graham went on to say that execution is just as important as the story itself. He emphasized that content marketers must connect relatable experiences to their stories, sharing stories that readers can relate to, or stories that they might have fantasized about, so that it's easy to gain their attention and interest.
---
VR usage and how it's emerging
While much of the work around virtual reality centres on enhancing the way people shop and play games, crafting immersive experiences can be a central part of engaging in an environment. Vaitari Anderson and Dwayne Grech from R&R Partners have been using VR to enhance the experiences of Las Vegas tourists.
As creative as VR in tourism may seem, Vaitari and Dwayne believe there's real value to bringing VR to industries such as education, manufacturing, industrial.
"VR is a flexible tool that you can use for entertaining but also a tool to assist in particular industries."

~ Dwayne Grech, R&R Partners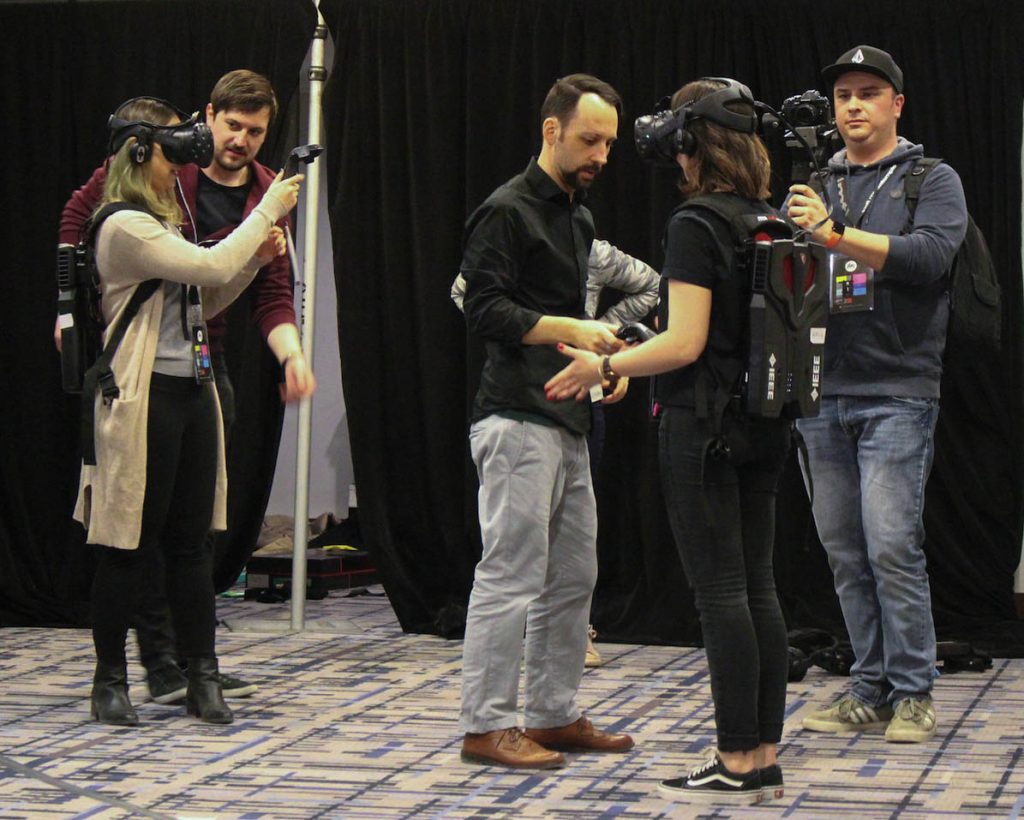 ---
Other popular topics discussed throughout the conference include AI and machine learning, creative problem solving, and creating design systems.
FITC is a conference unlike most. The creativity represented at this conference is out of this world, with hand-picked speakers and panelists challenging attendees to think outside the box when working in the digital industry and beyond. With speakers who excel in everything from video production to neuroscience, from content to space, we encourage you to join us at FITC Toronto next year to challenge your work process and be inspired by some of the best the world has to offer in creativity and technology.
---
The future is unending
In the meantime, if you're looking for support in navigating these kind of emerging new technologies and methodologies to ensure your organization is effectively serving your business and your users, we're here to help.