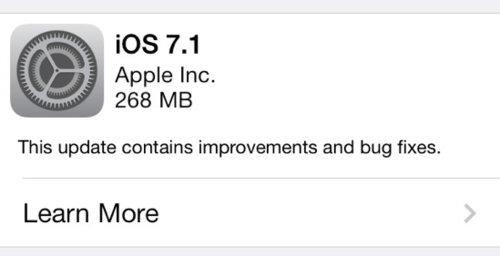 iOS 7.1 (released today) includes a number of seemingly minor adjustments to the latest version of iOS but, overall, they mark a vastly improved iOS 7 experience.
If you're running an older iPhone, you'll want to download this release straightaway for the performance improvements. (Just open the Settings app, select "General", and then "Software Update".)
And if you have yet to upgrade from iOS 6, this release may be what you've been waiting for.
More Responsive
Across the board, animations are snappier. Moving from home screen to folders to launching an app now feels twice as responsive, as if the folders and apps are jumping to attention.
Improved Accessibility
And for those who were getting a little seasick with the animations the Reduce Motion accessibility now includes Weather, Messages, and more.
Complete Details
Lots more to see from Apple on the new iOS 7.1 update page, as well as the full release notes, as follows.
User Interface Refinements
A couple of examples:
1. Refined home screen spacing, with icon labels moving farther away from the icons, along with adjustments to the dots representing the number of pages and the green used for the Messages and Phone app icons. I'm including this more out of curiosity for the nearly unnoticeable subtle refinement (perhaps implemented to accommodate the Accessibility settings for increased text sizes and bold type). And please excuse me for my lack of Inbox 0, nerds.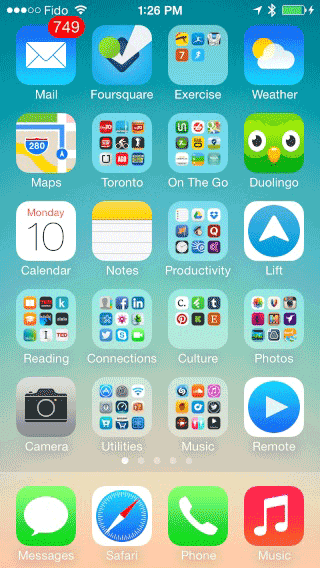 2. Phone app updates, prioritizing the key actions with larger visual elements for Decline and Accept and better identifying each of the actions with icons and increased contrast: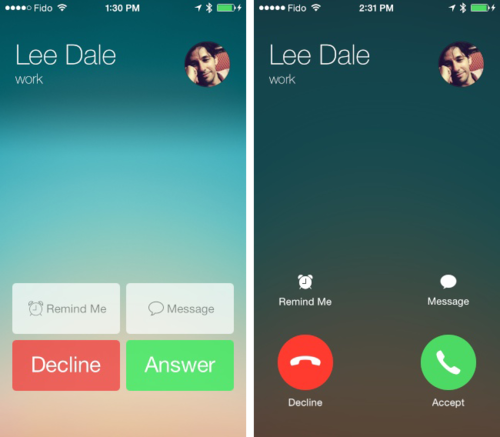 CarPlay
iOS experience designed for the car
Simply connect your iPhone to a CarPlay enabled vehicle
Supports Phone, Music, Maps, Messages, and 3rd-party audio apps
Control with Siri and the car's touchscreen, knobs, and buttons
Siri
Manually control when Siri listens by holding down the home button while you speak and releasing it when you're done as an alternative to letting Siri automatically notice when you stop talking
New, more natural sounding male and female voices for Mandarin Chinese, UK English, Australian English, and Japanese
iTunes Radio
Search field above Featured Stations to easily create stations based on your favorite artist or song
Buy albums with the tap of a button from Now Playing
Subscribe to iTunes Match on your iPhone, iPad, or iPod touch to enjoy iTunes Radio ad-free
Calendar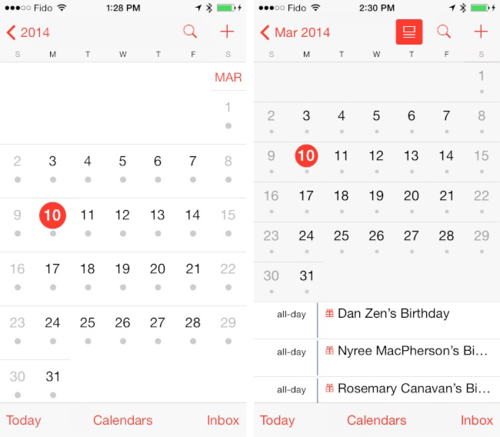 Option to display events in month view (pictured above right)
Country specific holidays automatically added for many countries
Accessibility
Bold font option now includes the keyboard, calculator, and many icon glyphs
Reduce Motion option now includes Weather, Messages, and multitasking UI animations
New options to display button shapes, darken app colors, and reduce white point
Other
New Camera setting to automatically enable HDR for iPhone 5s
iCloud Keychain support in additional countries
FaceTime call notifications are automatically cleared when you answer a call on another device
Fixes a bug that could occasionally cause a home screen crash
Improves Touch ID fingerprint recognition
Improved performance for iPhone 4
Fixes display of Mail unread badge for numbers greater than 10,000