Transcript
So being part of a fintech and vendor to banks today, that whole notion of big financial institutions working with start ups was completely unheard of five years ago. It isn't anymore.
We're constantly challenged by disruptors out there. For the longest time, I think people believed fintechs are more disruptors than partners, and as we see today, fintechs are more partners to the banks, in terms of how we look at the customer journey and solve for different parts of that equation.
What we're starting to see right now is a huge influx of new competition and new entries to the market who are coming from other countries or other continents, or from other completely different businesses. So Apple, for example. Apple are about to launch a physical credit card. If you were to go back eight years and say is Apple going to be a threat to the financial services industries, you'd be like, no. Well now it's very much a part of the financial services industries. Facebook has a banking license in Europe, the Chinese social networks all have very large financial offerings now. And all of those things wouldn't have been foreseen five or six years ago. And I think if you're only looking within your own business, you're only looking within your own field, you're going to be crushed in the onslaught when the new entries arrive.
I think it's so critical that all companies use digital and design thinking with every breath that they take in their occupation, because if you don't, you really become the frog in the pot, so the frog in the pot story is that somebody put a frog in cold water in a pot and they slowly increase the heat until it was boiling and the frog was dead. But the frog didn't feel the heat, and just died. So you know, you don't expect to be thrown into boiling water, I mean technology doesn't change instantly, Generation Z is not gonna automatically buy a whole life insurance policy from you, but I think if you don't use that thinking on a day-to-day basis, then you're really at risk of being disrupted.
I think first every organization should define its role in the world, even before moving into human-centered design practices. The bigger question is an existential one. Why do we deserve to exist? What is the unique value that we can provide as a company in a society, and for human beings? And once you have that figured out, sort of your unique market definition, out of that, you have to execute it against that. And I think there are these human- centric design methods that are absolutely very valuable.
Everybody's trying to level best to be a customer-centric organization, and human-centered design is a big, big part of it. It's how you think about customer journeys, what their needs and wants are, and how you kind of fulfill that.
Before we spend a dime on anything, we talk to our customers first. We also then don't believe our customers because people say one thing and they behave differently. So we will build these small toys or tools with a very small budget, and then float them out to our customers, and then see if our customers actually use it, or if they don't touch it. And then from there, we'll look at investing in bigger partnerships. And then of course, using the data that we've found from these toys to inform actually building something internally.
Data means everything. We look at vast amounts of data that exist out there in terms of what our customers really need, in fact, even building something like the chatbot, we looked at real life cases of what do people actually ask when they call in, or visit a branch, and as I mentioned, self service online is one of the biggest things people ask for. Branch is one of the biggest things people ask for. 'Cause you always want to build a product that people are gonna use at the end of the day, and if you don't kind of build that with a platform or foundation of data, then it's just a product.
You're not going to do your banking through virtual reality, almost certainly not. Cause that would be stupid and weird. But, virtual reality as a technology, is very interesting and very promising. And will transform the world in some way, will make a cultural change, will make a social change. And so the banking that you do is in a world where VR has happened.
Think realistically and you know, what do you do for people? Just try to avoid those labels, because I think those labels have become very problematic, I mean, ideally, you actually start by studying people and thinking about how do you create a very meaningful relationship with them. And I don't think it's a bad digital first, I don't think it's about just creating experiences, but defining first, like what's your role? How can you create a very valuable relationship with those people?
Held in the heart of downtown Toronto at the Steam Whistle Brewery, Mobey Day Toronto invited professionals from top Canadian financial services, service design, and technology companies, as well as leaders from across Europe.
The two-day conference welcomed industry veterans and trailblazers to connect and learn, around the topics of open banking, technology partnerships, enhancing customer experience, and emerging technologies and methodologies.
---
Say Yeah had the privilege of interviewing the global group of speakers, representing top-performing companies that are driving effective transformation and emerging businesses that are disrupting markets.
Here are the topics that stood out to us during the talks and discussion panels.
Customer spending habits
Representing STACK—a new service for people to save and share money through their smartphone—Ranjit Sarai shared the importance of meeting the needs of the growing millennial market, and how data is the answer to meeting these needs.
With millennials trending towards exclusively operating across digital channels in order to manage their finances, this gives organizations more data to work with in order to make informed decisions about product, value, and experience. It's this active, ongoing feedback loop to learn from that becomes a vital tool in order to continue serving millennials efficiently.
Sarai also highlighted how customer journey mapping and design thinking are great tools for helping organizations understand current behaviour and deliver suitable and customizable solutions to enhancing customer experience and increasing customer spending habits.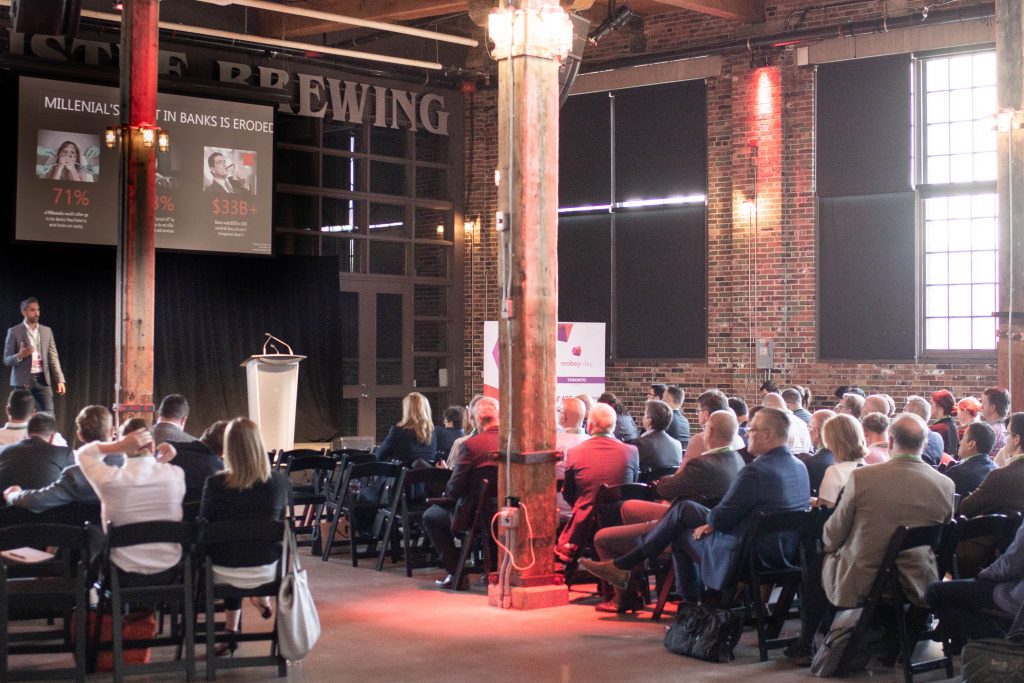 Customer Experience (Debbie Gamble, Interac)
Debbie Gamble is the VP of Digital Products and Platforms at Interac. This company is considered a B2B2C, but Gamble and her team believe that design is essential to customer experience. It's not enough to focus on the businesses they service, and Interac takes its role in shaping the end-user experience seriously.
"Customer is at the centre of everything we do."
~Debbie Gamble
---
When bringing products to market, Interac focuses on three key values:
Keeping their customer first;
Embodying a trusted relationship between the company and the client, and;
"pivoting with ease," which is essential in an age of disruption.
She went on to describe that although serving customers most effectively requires the right channels, that's not enough. Channels matter, but the right strategy is what makes all the difference.
---
Chatbot revolution
Sumit Sarkar from BMO presented a case study on the BMO Bolt Messenger Bot. BMO saw the implementation of a chatbot as a way to become more effectively engage with their customers.
They launched the Bolt Messenger Bot on Facebook Messenger and Twitter and found they were able to more effectively deliver service across these networks.
"We wanted to be where consumers are."
With chatbots following familiar messaging service patterns and usage across already populated networks, BMO was confident that this new channel would be welcomed by the majority of their customers, and they've been thrilled with the response so far.
---
Open banking on the rise
The dynamics of financial services is changing significantly with open banking. With the implementation of real-time money management across a variety of providers, people have more control over their data and their money. The emergence of technology has propelled the notion of open banking (the use of Open Application Programming Interfaces (APIs) that allow third party developers to construct applications and services around the financial institution) quite rapidly.
According to Christine Robson, manager in the Monitor Deloitte corporate strategy group, open banking is here to stay. Open banking legislation and the use of Open Application Programming Interfaces (APIs) that allow third party developers to construct applications and services across financial institution is opening up both consumer benefits and partnership opportunities.
---
"Open banking is not a new concept, it's a movement."
---
With the right application and adaptation, open banking has a potential to reshape the entire industry.
---
Panel
Stemming off from the topic of finance and chatbots, a panel featuring Jake Tyler from Finn.ai, Sasha Caskey from Kasisto, and Gurpreet Singh from BMO, gave insight on designing and deploying conversational AI. Participants challenges one another with thought-provoking questions for the future. With AI in banking, what will the future look like? How can one ensure bank loyalty in an age where millennials will never touch foot in a bank; is chatbot the answer to this?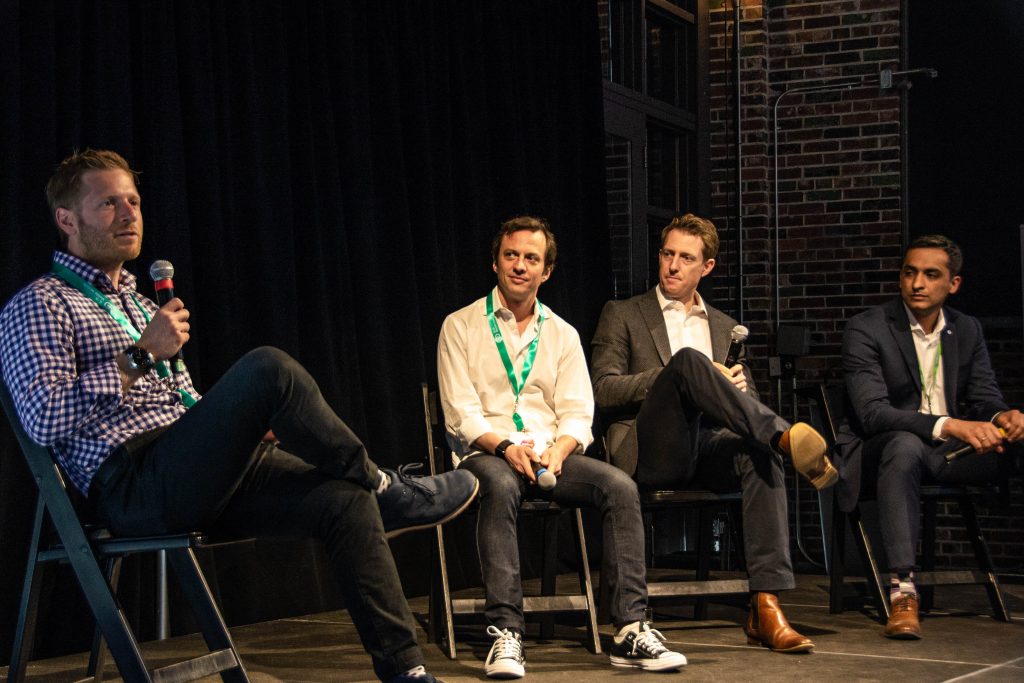 ---
With over 38 countries and 20 banks represented, Mobey Day Toronto provided a diverse outlook on the rapid transformation of the financial industry due to the increased use of AI, robotics, and the sudden change in spending habits.
Stay in touch with Mobey Forum for upcoming events across the globe and gain access to fintech content you just can't Google!
---
If you're looking for support in navigating these kind of emerging new technologies and methodologies to ensure your organization is effectively serving your business and your users, we're here to help.