It was with little more than a few t-shirt slogans and the dream of a cleaner planet that two mothers from Vaughan came to us. The company these two trendsetters envisioned was Organic Crush, a full line of premium infant clothing made with organic fabrics and eco-friendly processes. With a well grounded business idea, close to our interests in being both socially and environmentally responsible, we took on the project with the task of positioning Organic Crush as organic clothing with designer flare.

As a result, Organic Crush Eco-Kid Couture was launched with a sophisticated yet earthly logo, hip and trendy clothing designs, and a clear, well positioned message. Since the launch in January 2008 the product has done phenomenally well, with placement in some of the GTA's most fashionable children's boutiques, and to our great pleasure, in the celebrity gift bags of both the Emmy's and Oscars. Indigo's Heather Reisman also launched her new venture, the eco-friendly retail chain Pistachio, with Organic Crush as the exclusive organic kids clothing line.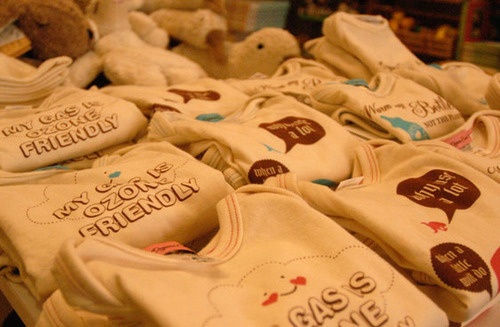 What was done for Organic Crush:
Strategic development from the brand out.
Logo and identity development.
Clothing and decal design.
Media including a website and POP materials.