The two skeuomorphic apps which ship with OSX Lion, iCal and Address Book, offer some frustrating form over function compromises which obscure content.
iCal has relegated your list of Calendars to a recessed button top left. Clicking this pops up a semi-transparatent overlay with a list of your calendars which you can then toggle on/off, but there's no way to make this list of calendars viewable at all times.
For the general user, this won't be a concern, but in the office we're all synced up to our iCal server so we have a handle on vacation schedules, meeting scheduling, and so on.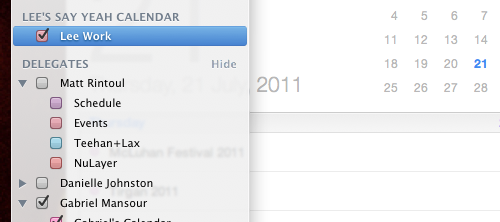 I don't always want to see everyone's calendar, so I generally toggle everyone off unless I'm looking for someone or need to book a group meeting. Dealing with this popup is doubtless going to be a pain.
Thankfully, Mail handled this right.
By default Mail loads with quick links to mailboxes and filters just under the primary toolbar, obscuring your complete list of folders.

However, there's a lovely little show/hide button which drops a third column into mail and shows all your mailboxes.

This would be an easy addition to iCal without compromising the desktop leather; just show/hide my calendars in a column running down the left side.
Address book follows this pattern of obscuring data by default with no way to view the Address Book groups, contacts list and an individual contact all at the same time.

In this case, the two page spread of skeuomorphic address book means maximum two columns. Apple's hacked this interface limitation to include a red tab which you use to toggle between a groups/contact list view and a list/contacts view. Form over function. Such a shame. It's the content I'm after here, not stylized stacks of non-functioning pages.