A couple of weeks ago, my excitement was ratcheted up a notch or two with the prospect os OSX Lion presenting us with a new unified skin for "the world's most advanced operating system."
For years we've had inconsistencies between the design and icons of the various native OSX apps, even being left with version 1.0 scrollbars in most apps, long after Apple's aqua interface was otherwise replaced.
While OSX Lion's introduction was relatively brief, and the screen shots on the teaser page don't offer much (going so far as not even showing any non-fullscreen scroll bars at all), a little digging and we can find the following:
Toolbars
Mobile Me's blue background and white icons will not be replacing the current metalic theme.
Mobile Me:

OSX Lion:

Mail
It does look like Mail will be getting a much improved, simplified icon set:
OSX Snow Leopard:

OSX Lion, from AppleInsider:

(Sorry for the blurriness, but I believe that was captured and enlarged from Apple's keynote video.)
Scrollbars
Finally, we the keynote video also shows that scrollbars will be taking their lead from iOS. Aqua will be replaced with wispy wee scrollbars.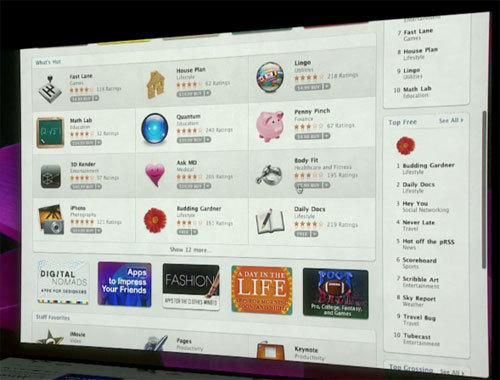 Interestingly, MacRumors is reporting that, "Like iOS, the scroll bars disappear when not in use, but reappear during scrolling or with mouse movement." In other words, like iOS, if it's not visually obvious you get to guess whether or not the page continues downward (or across) before you bother attempting to scroll. This would be a very odd decisions as it's a bit of a nightmare for users and, at best, made sense on the iPhone due to limited screen real estate.
Of course, I'm sure we'll see more in the months leading up to OSX Lion's summer '11 release.