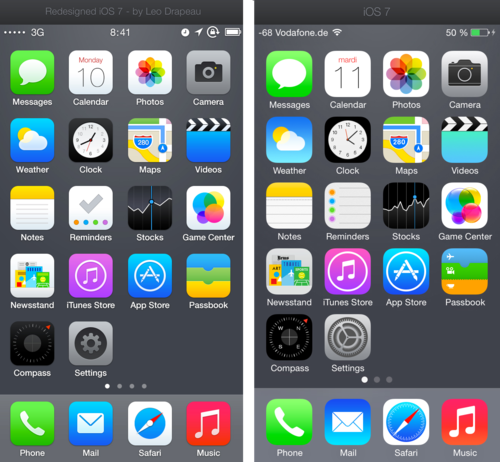 Following Apple's iOS 7 announcement earlier this week, there's been a lot of discussion around the default icon set (pictured above, right). Detractors have focused on inconsistencies, concerns around a lack of cohesion between icons, and a general disdain for the colour palette and icon styles. Designer Leo Drapeau's taken a stab at addressing some of the more moderate considerations with his iOS 7 icon refinements (pictured above, left).
He offers some nice takes on both simplifying some of the icons (Camera, Game Center, Stocks) and differentiating others (Reminders vs Notes), but I don't agree with his decision to go back to the iOS 6 corner radius (where icons appear smaller inside their rounded corner squares).
The new, larger iOS 7 icons have a beautiful playfulness and resonance with the smaller padding. Resetting them makes them appear less touch-friendly.
Update: Neven Mrgan wonderfully illustrates an issue with the larger icons based on their varying weights:

And yes, you need to scale to ensure lighter weight icons are not overwhelmed by their fuller cousins.
Now back to Leo: I fear he's lost the plot in the dock, with a more complex Phone icon, under-styled Mail and Safari icons, and a thin, more conservative musical note which almost disappears when compared to the other icons.
For me, there are five concerns that stand out with the iOS 7 icons.
1. Game Center's reflective bubbles, which are incongruous with every other icon.
2. Music's vibrant red/orange, which is outside the colour palette of the other icons (or at least appears to be because of the dark to dark gradient, rather than light to dark gradients of the other icons).
3. The Reminders icon, which has no charm, particularly in light of Leo's wonderful reworking.
4. The overly complex Settings and Compass icons.
5. A Camera icon that shows something that isn't anything like my iPhone. I'm sure they still aren't using a floppy disk as a save icon, right? The previous camera icon was a lens. Perfect.
Some minor efforts in finding consistency will resolve most of these issues, but there's no doubt these new icons better suit the expression and the experience of iOS 7's overall redesign.
Icons aside, the most important concern stemming from this redesign is found on the lock screen, where 'slide to unlock' has lost its arrow, trough, and the block that slides through it from left to right (pictured below).

Certainly some visual cues need to be added so you know how the heck to unlock your phone. I bet 50% of people try to slide up, rather than from left to right: