Customer journey was one of the dominant buzzwords of 2015, and rightly so. For marketers and product owners, understanding the customer journey is the key to delivering effective digital products. By tailoring digital properties to the needs of the customer based on where they are on their purchase and retention journey, you're able to focus and streamline digital products, ultimately delivering a superior customer experience.
With knowledge of this key tool for driving customer experience across channels accelerating throughout the past year, you can expect customer journey mapping to be among the biggest digital marketing buzzwords of 2016.
As Chris Risdon at CapitalOneLabs said in 2011: "their importance exceeds their prevalence." That's finally starting to change.
What is Customer Journey Mapping?
In a sentence, customer journey mapping is the process of defining a comprehensive and actionable step-by-step path of your customer's complete journey in addressing a problem or need they have identified.
From awareness of the product to customer retention, including sales touch points, engagements with your product or service, and any other customer interactions which fall in between, customer journey maps help to give a better understanding of customer motivations, goals, and behaviors.
From Joel Flom's UX Matters article comes this example of someone looking for broadband service in 2010 (click to view full size):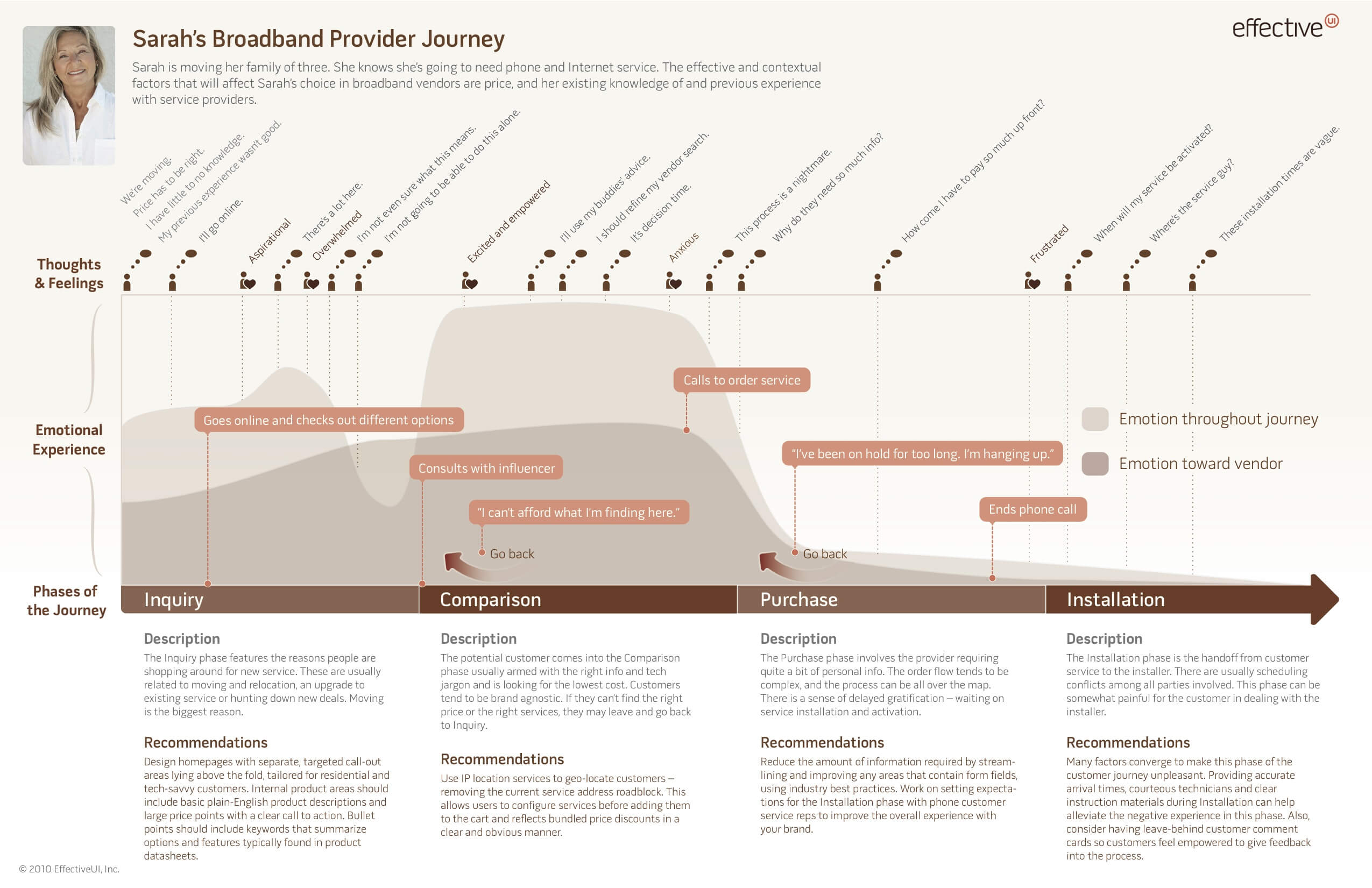 Why Should I use Customer Journey Maps?
Whether you are launching a new digital product or updating an existing site, app, or other digital property, Customer journey maps provide valuable insight, informing: strategy, design, and content.
Customer journey maps help to better define the who, what, why, when, where, and how of customer decision-making by taking an in-depth look at customer personas, timelines, emotions, touchpoints, and channels, throughout the customer journey.
Well-considered customer journey maps enable you to:
determine the ideal channels to reach customers at different points of their journey;
work with sales, marketing, and support to identify the content necessary to drive users to action across those channels;
focus each of your digital properties around the role they fulfill within the customer journey.
This example highlights the key media required across various touchpoints in a sales funnel (click to view full size):

Ultimately, your customer journey map is the key tool you'll use to increase conversions and improve customer retention.
So why should you use customer journey maps? Because they inform successful and profitable digital properties.
Get Mapping
Do you need help creating your customer journey map and understanding how your digital properties can be better aligned to your customer's journey?