Transcript
Everyone's heard the phrase, if the only tool you have is a hammer, every problem looks like a nail, right? So a lot of times, our clients will go to a certain partner or a certain vendor and say, say you go to a video vendor, they'll always come back to you with the video that they think will solve your challenge. Whereas if you're sort of medium agnostic, then you've got every opportunity available to you to solve that issue, so not only have you got all of the different skills that you've acquired over the years, you've also got this sort of interconnectivity between the two of them.
So every company or organization that wants to give their users whatever experience they're trying to give, has to first tell their story, tell the user why they should come to them, why they should give them a chance, why they should even have that experience in the first place. 'Cause if you can't bring users to you, it doesn't matter what kind of experience you offer them, no one's there to experience it.
To fit in like a lot of women, we always go through, for myself I went through a phase of, "Well, should I act more like the men act? "Or how should I interact?" And so I went through a phase of trying to be more, behaving as a male, and then I realized that really was killing me. And so I decided that I just had to be myself. And actually, that's when I became an entrepreneur.
I can flip my hair over and cover up this side shave and I look a little straighter, if I wear a skirt instead of a bow tie, right, or these sorts of things. And you learn to compensate. And then, as I got older and started to sort of hold my own in this space and become a leader in this new research and technology that we were doing and people sort of valued my opinion, I realized that I had this huge opportunity to be highly visible to other women, to other queer people, to other people from… South Louisiana where tech is not a thing. All of these different people who might want to come into tech and feel like they have these sort of barriers and challenges.
The Say Yeah team was excited to attend Toronto's first Collision conference in May, which was jam-packed with tech insights, startup presentations, and international vendors. We connected with startups, designers, and technology professionals.
Here's a recap of our conference highlights:
In defence of the jack of all trades
The New York Times' Graham McDonnell shared the benefits of being an adaptable 'jack of all trades' in this digital age, and described how his career continues to evolve. While being multi-disciplinary is often labelled as being a negative trait or career choice, McDonnell advocated for this approach, emphasising that it enables professionals to embrace a broader, more agile career path.
McDonnell's career highlights include musical composition to motion design. Currently, he's stretched the definition of 'creative director' at our continent's most reputable newspaper. Initiating and embracing multiple career 'pivots' may sound terrifying, but after reflecting on his inspiring career, we're convinced that there's real creative, intellectual, social, professional, and cultural value in honing a wide variety of skills.
In our interview with him, he reflected further on his varied creative career:
"There is a lot of value in the interconnectivity between the different skill sets you acquire over the years"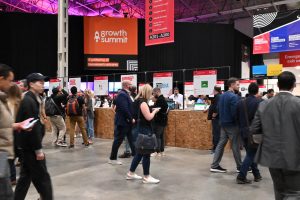 Panel: Building your global content community
Hosted by Savannah Sellers, this panel focused on cultivating an audience through social media. With a keen perspective from VSCO, a popular online photo-sharing community, Joel Flory emphasised that building engaged communities online was increasingly important, and that creators can scale their audiences indefinitely.
The key success factor for VSCO: It actively participates with its community through curation and editorial, never taking a back seat. This tactic was suggested for all brands and creatives for their online platforms.
For Christene Barberich, it's critical to listen to your gut when it comes to identifying and operationalizing good ideas – even without data on-hand. According to Barberich, these intuitive feelings and emotion-based motivations are just as important as analytics; and should be used in conjunction with data.
As she built and grew the voice of Refinery29, she found that all creators can benefit from balancing number-crunching data-driven decisions with human curation and intuitive insights.
Fintech's Race to Innovate
A prominent theme at Collision, which sparked many thoughtful and thorough conversations, was Fintech. "Fintech's race to Innovate" delivered by Bob Legters, the Chief Data Officer of Fidelity National Information Services (FNIS), focused on innovation and scaling technologies.
At one time, the ATM was the most innovative fintech innovation. Now, they're referred to as outdated. Through his work at FNIS, Legters discovered that as technology scales, it's often labelled "old news" fairly quickly. Instead of finding a "current" middle ground, tech is categorized as either innovative or outdated. So, how can fintechs keep innovation going? By focusing on their customer base.
Legters cautions that this requires organizations having difficult conversations, since it's there's no straightforward tool-based solution. Fintechs should aspire to be product builders, not tool builders, and to create products that speak for themselves.
The Collision Conference's move to Toronto represents an exciting time for tech and digital innovation in our city. Our Say Yeah team encourages everyone to attend next year's event for more technology insights and connections with like-minded professionals.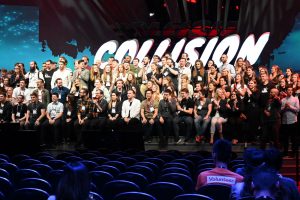 ---
From uncovering new market opportunities to finding new efficiencies through tech
We're here to help explore innovative ways to improve service delivery and customer experience.