Our proven system strategy process helps accelerate internal decision-making with an approach that uncovers key opportunities to drive customer engagement and retention while optimizing operations.
---
For many organizations, knowing where to start with digital can have a profound impact on a manager, product team, or even the organization as a whole. Even for those organizations that have been dabbling in digital—perhaps with a mobile-friendly website or an intranet that helps manage customer support—decisions on how these systems are architected can be reactionary at best. In these scenarios, key internal use cases may be covered, but the general approach is typically to just make sure deliverables exist:
Do we have a mobile-friendly website? Check.
Can customers purchase our product online? Check.
Do we have access to customer details when they call the call center? Check.
This kind of reactionary approach, however, does not drive engagement and retention. Under this approach, you're unable to uncover—let alone capture—new market opportunities. Rather, it's a sound system strategy that aligns operations and digital channels with a customer's journey that reaches these lofty—and essential—goals. Goals Say Yeah helps you meet, efficiently and effectively.
Here's how we uncover those opportunities
Alignment with the customer journey is about understanding how digital can be leveraged at each stage of the journey to most effectively serve users and drive them towards business goals.
We identify this by balancing the following criteria:
user needs
business goals
the potential impact of digital on these needs and goals
resources, both required and available to capture this opportunity
The detail of each of these criteria involves many factors uncovered through research, expertise, and an understanding of both the market and the business. Nonetheless, these criteria are the four core considerations that set the tone for making effective decisions about your system strategy.
The factors that influence product and service opportunities
Market factors
Market opportunity
Audience
Competition and landscape
Future tech, research, and processes
Regulations
Funding
Macro-economic changes or shocks
Organizational factors
Products and services
Resources
Investments and required costs
Marketing
Distribution
Operations
Time horizon
Considering current state and paths and lengths of time to reach any number of possible future states.
With these factors considered, we can then:
look across each stage of the customer journey and begin to lay out a system strategy that aligns with each step of the journey;
highlight parts of those stages where we can have the most impact;
identify areas where digital will have little to no impact, thus pointing to other channels or methods of serving the customer; and,
build an effective digital and service delivery plan based on available resources and requirements for delivering effective and exceptional service at each stage of the customer journey.
Our system strategy process not only helps ensure existing initiatives are working as effectively as possible, but we routinely help identify new areas of opportunity where service can be extended. New products can also be developed to further drive engagement and retention, and internal teams can be aligned to improve organization-wide service delivery and customer experience.
Aligning operational capabilities with the customer journey
By aligning the stages of the customer journey with opportunities and capability of the organization to capture those opportunities at each stage of the journey, there's a clear view of where effort can and should be spent in order to bring increasing value to consumers and improve organizational efforts, investment, and reward.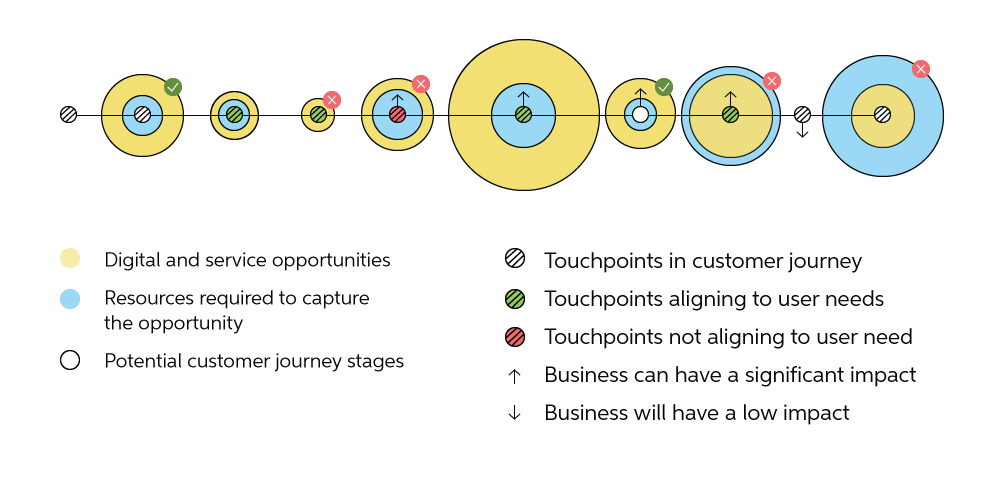 This visualization is an effective treasure map of opportunities and capabilities tuned to drive engagement across each stage of the customer journey.
Take a deeper dive into system strategy
For a detailed view into the foundation and execution of the system strategy framework, including some real world examples, we encourage you to arrange for a 60 minute presentation and Q&A with us.
Get in touch to book your presentation
Download the slide deck now for an overview of the material
While the in-person system strategy presentation dives deep into the foundation of the framework, how to bring it into your organization, and includes additional perspective on a number of client case studies, we've made the slide deck available for free so you can begin to bring this essential framework into your organization.
Download the slide deck
It all begins with the customer journey
You can see now why the customer journey is such an important part of your service design and product strategy decision-making. It isn't hyperbole to state that it all begins with the customer journey.
---
Contact us today to discuss how we can work together