Strategy Institute's 8th Annual Digital Customer Experience Summit took place on the 29th and the 30th of March 2022. Those who attended were in for a real treat as various speakers shared some innovative tips and tricks to improve customer experience (CX) at any organization.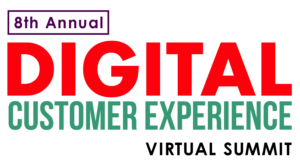 The Say Yeah team had the opportunity to sit in on some great conversations and hear some fresh perspectives on self-service, data usage, customer needs and so much more.
---
Conference highlights
Learning how to build exceptional self-service from Josh Bean.
Hearing from Katrina Schiedemeyer, Kamesh Moola, and Kobi Ben Meir on how even though digital services are taking over, it's important to recognize that there are times when consumers prefer physical interaction. As CX professionals, we need to learn to balance both needs.
Listening to Ashley Fitzgerald, Afshin Ahangar, and John Ross's approach to using data as a means of finding the entry and exit points on your website to understand where your company is not delivering.
---
Building effective self-service
Josh Bean's talk was centred around how we can increase the productivity of help centre agents as customer preferences for self-service solutions increase. Josh listed three ways of deflecting tickets to improve the productivity of agents:
Having a knowledge base;
an online community; and,
a customer service portal.
During his session, Josh also walked us through a 5 step process for getting self-service up and running:
Project planning
Content planning
Content creation
Launch and execution
KPIs for success
This aligns with one of the key objectives we help customers achieve: guiding customers through critical product and website flows so you can better drive engagement without burdening help staff.
---
Balancing in-person and digital customer interactions
During this panel discussion, Katrina Schiedemeyer raised the point that while self-service and digital services are the focus of many organizations, customers may at times prefer having face-to-face or phone interactions.
Customers may have concerns that they would rather speak to someone directly to get help faster and with more clarity. Additionally, they may feel it is easier to speak with someone rather than having to dig through pages of information on a website, or being forced to speak with a chatbot that doesn't give them the results they want.
Katrina highlighted how empathy can get lost in digital services. In trying to become more efficient and reduce calls to a call centre (with features like chatbots) for the benefit of the company, it is important that we make sure that we aren't creating more challenges for the customer.
We need to ensure we are still providing a range of ways for customers to meet their goals, providing the personal support they may need.
---
Understanding consumers with the help of data
In their talk on actionable data insights, Ashley Fitzgerald, Afshin Ahangar, and John Ross discussed using the data you've gathered to find the blind spots in customer experience.
John Ross emphasized making use of data to determine where you aren't delivering on your website. Using the data to discover where the entrance and exit points are on your site is valuable to understanding what makes your customers behave the way they do. Based on this knowledge, a team can brainstorm ways to fix the areas that are putting up barriers for users.
Data is there to help us discover things we couldn't see before and plan for better outcomes.
---
This year's Digital Customer Experience Summit was an exceptional opportunity to further develop your CX toolbox and connect with industry experts. We're looking forward to next year's conference and future events hosted by Strategy Institute!
---
Ready to bring new customer experience insights and practices to your organization?
We can help improve customer reach, engagement, and retention with our efficient, data-driven approach to product strategy, design, and delivery.