Transcript
Where gaming started from was the very typical, you know, you look at the Atari or the original Sega and it was very simple gaming and we're getting back to that. So, I think all of this in between, all of these insane casual games or I'd say an RPGs that are really popular, I think there's a place for them, but I also think that they are, they have their place, they have their people, where I think as the, as content grows, especially in the gaming industry, that it always goes back to the retro, the original, you know, simple shooters…simple puzzle games.
Chatbots have been around forever. They're not necessarily a new technology, but I think that what's driving the interest in this space is the technology and specifically the AI and, you know, the missing learning and the natural language understanding piece of it has evolved considerably over the last handful of years. We've been doing this for almost four years and we've seen just leaps and bounds in our ability to contextualize those conversations to understand the inputs to be able to, through machine learning, be able to kind of predict behavior and respond accordingly to those.
I think storytelling is everything and the best way to engage with an audience, especially when you're trying to be authentic in the way that you communicate with them. There's so many different forms of content, whether it's sponsored content or promoted brand content or influencer content, each has a different objective so you need to understand what are your objectives first, before creating this content and that in itself will shape and influence the visual storytelling strategy that you want to engage on.
If I'm trying to create engagements, I might want to tailor the message in a certain way, if I want to build awareness I might speak to people in a different way. If I'm working with partners maybe there's a different way of bringing this in. So, with visual storytelling as well, what I find is the biggest key to success for us in working with influencers, it's giving the influencers full on control over the creative process. It's all about managing it. It's about briefing them in, bringing them into the co-creation process as well, where we're partners and just letting them have fun.
I think that virtual reality and books are very closely connected and when we work with both of these technologies, it creates a very intense synergy.It's much more important and beneficial to work with both mediums rather than separately. The gain in the end would be much more important, especially if we work on hybrid projects.
When it comes to getting things done, cool is irrelevant, because we design lots of cool stuff and we can do a cool demo but something won't take traction, it won't succeed in the market unless it actually provides value.
Google Maps was really cool when it came out and it was kind of a fad, but it wasn't until we could start using it in our cars and getting walking directions and transit directions that it became really usable and so, now everybody uses Google Maps, right? So, it's when a technology finds a purpose and solves a real world problem, that's when it kind of crosses over from cool and kind of niche and fad, to usable and necessary for everyday use.
I think that the greatest thing about working in games is that we never sit back and say, we've done it, we've achieved it, we're always pushing harder to find new breakthroughs, new innovation that are going to deliver new gameplay experiences for the player in even more immersive ways.
Interactive digital media, on a whole other level.
From October 26 to October 27, 2017, hundreds of attendees joined hosts Interactive Ontario in Toronto for iVentures 2017. Attendees heard from a variety of international professionals in interactive digital media, exploring storytelling, cross-pollination, and industry collaboration from gaming to advertising, in-home to mobile.
Keynotes and panels representing Ryerson University, Cineplex, Autodesk, and more, covered emerging trends in technology, design, and storytelling.
iVentures shed light to the possibility of gaming, game theory, Augmented Reality (AR) and Virtual Reality (VR) revolutionizing experiences across finance, insurance, automotive, health, and other industries.
---
The Expo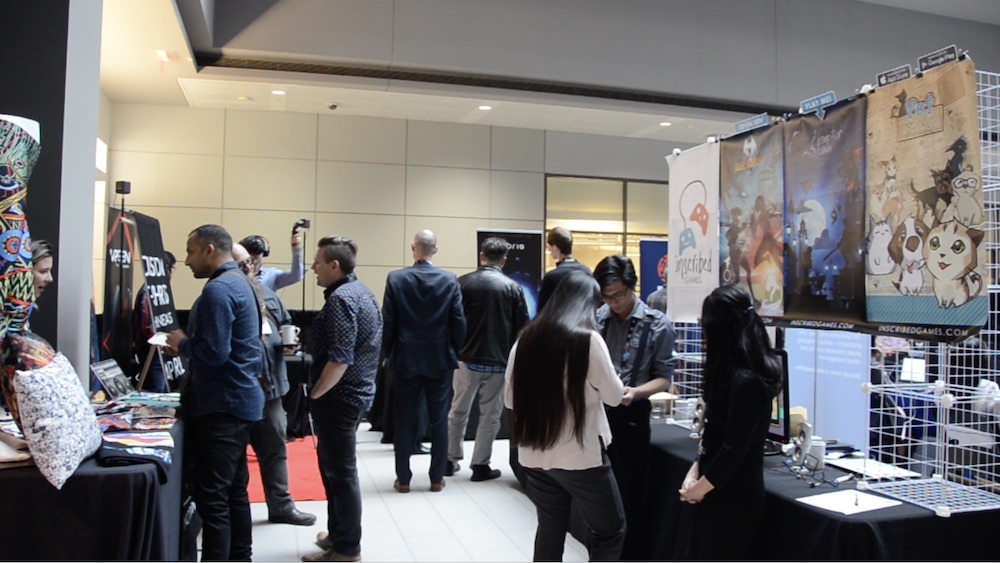 The Expo was a hotspot for technical demonstrations and innovative exhibits, featuring trending technologies that are changing the way organizations work in the digital age. AR and VR exhibits were the most popular, with attendees flocking to the Expo to learn more about the organizational benefits of immersive learning and other practical use cases.
---
Speaking of AR and VR…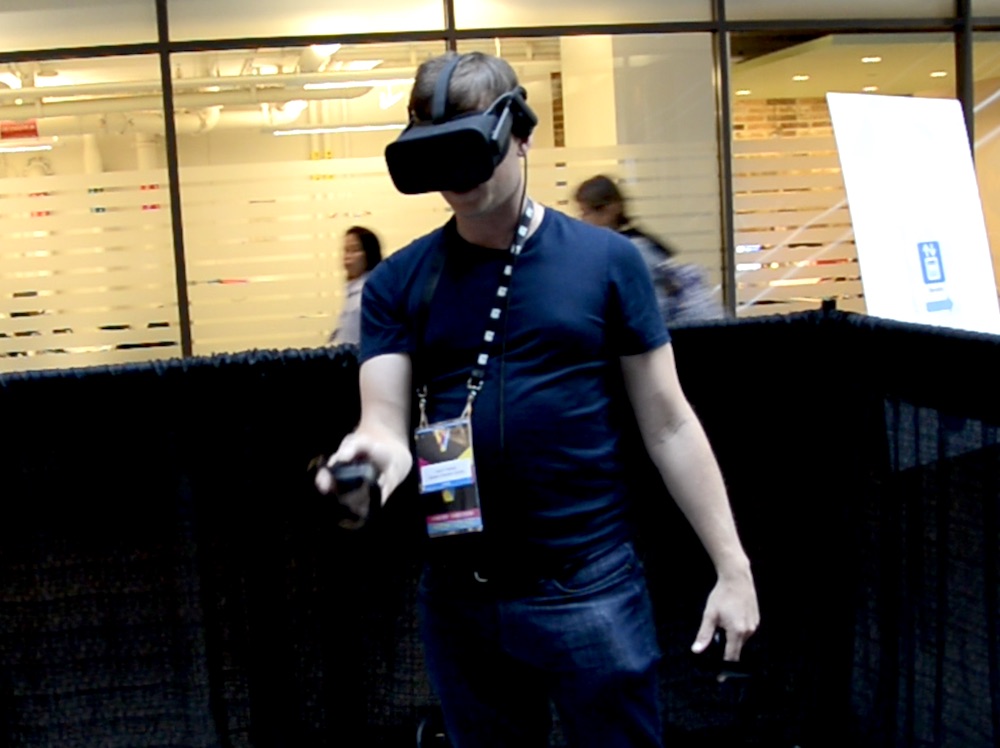 Going beyond games and home decoration, John Schrag, director of experience design at Autodesk works on products the help people create visualizations of design work. Being in this field for decades has taught him that designing for this new era of digital goes far beyond coolness.
"My mantra is that when it comes to getting things done, cool is irrelevant. It's all about the experience and what it can do for consumers," he said.
---
When it comes to getting things done, cool is irrelevant.

~ John Schrag, Autodesk

---
Charles Lavigne, CEO and co-founder of LlamaZOO Interactive agreed with Schrag, saying that the adoption of AR and VR technologies depends on their use cases and how they will affect the lives of people. "It's when tech finds a purpose and solves a real world problem, that's when it crosses over from cool to usable and necessary for everyday use, and I think that's going to happen (with AR and VR)."
---
The rise of the conversational UI
Conversation interfaces have been around for longer than you think. However, the return and reinvention of this technology, alongside the addition of machine learning, AI, and it's ability to predict behaviour, is leading to the rise of conversational user interfaces (UI).
According to Russell Ward, co-founder of Massively.ai (a chatbot and artificial intelligence company in Toronto), the strong return of conversational UIs is pervasive in the social media space and growing elsewhere.
"It's so new for an old technology but i think what you're going to begin to see is Amazon and Alexa Google Home become more pervasive, bots in Facebook Messenger, Twitter and Kick become more of the norm. The space is going to open up and take off dramatically," he said.
---
Inclusive design and accessibility
Digital is becoming the new frontier when it comes to accessibility. Access to mainstream services require the use of digital media in one way or another.
That's why Benjamin St. Louis, director of compliance and enforcement at AODA, pushes the value of inclusive design.
"Building inclusive design will help everyone (businesses and users) in terms of engaging in any digital environment—whether trying to pass info along on a website or designing an interactive environment—that people can derive fun and entertainment from," he said.
---
Cross-sector collaboration
Companies are beginning to understand that maintaining their success does not necessarily require them to work harder, but smarter. Partnerships are emerging between interactive media producers and other sectors, including education, automotive, healthcare, and more.
Several speakers and panelists spoke on how vital diversity and collaboration is to excel at problem solving, storytelling, and growth.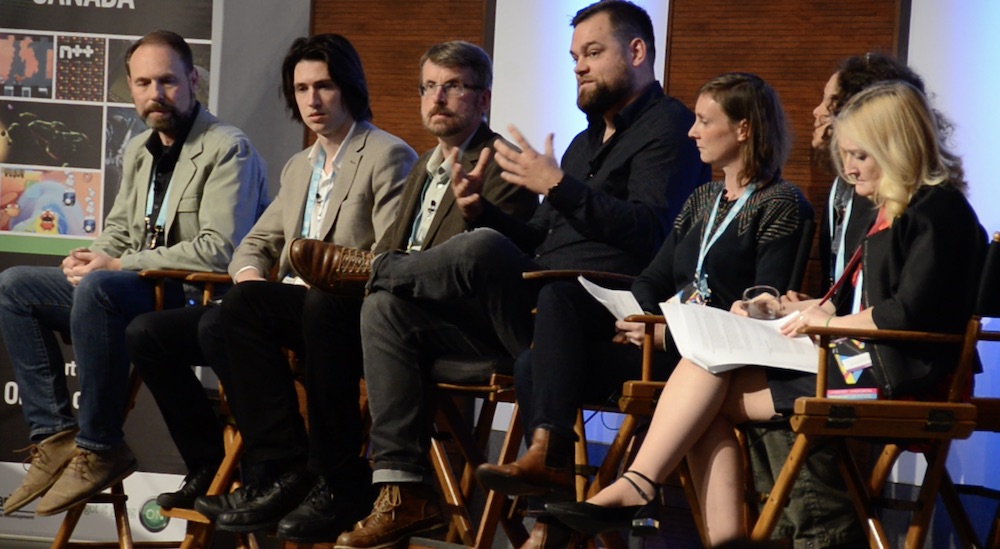 "I think the education, health and communication industries will benefit the most from augmented reality in the coming years."
~ Charles Lavigne, LlamaZOO.
---
Heather Steele, head of communications at Ubisoft Toronto, has the privilege of seeing things from a marketing standpoint. She says that by creating strategic partnerships within the multifaceted world of gaming, possibilities are endless.
---
From uncovering new market opportunities to finding new efficiencies through tech
We're here to help explore innovative ways to improve service delivery and customer experience.