Transcript
It doesn't matter if you are new to service design or just new to the community. Everybody is just really open and welcoming, and I think that is one of the best things so far that I have experienced here at S.D.N.
Charlyne Lefebvre-Paillé:
At the very start with Discovery, we take the lead, and as we progress and it is more tech led. Then we are going to have experts, data scientists, research engineers that are will take the lead. But as a designer we need to make sure that we continue to be there to represent the users and always match that to a user experience and not just the technology itself.
Yeah, so I really believe that designers are already inherently good at designing for behavior change; because intuitively we kind of know how people behave, how they kind of feel and we really, through emphasizing with our users and customers, I think we're already really good in creating meaningful experiences. But I think we can be more effective in doing so. And behavioral science is a really good addition to our skill sets.
At the very beginning when you are starting an idea you care so deeply about the idea, and then you hope everyone else also cares about the same way. You know, I care about eliminating the idea of waste. And I go to these corporations and say, we have figured out how to recycle diapers, do you want to enable it? Or we figured out a way to recycle coffee cups, would you want to do it? And we get meetings but it wouldn't go that far, it would stay pretty modest. And we realized that the framing shouldn't be that. The framing should be, hey diaper company here's a way you can sell more diapers, beat your competition by recycling your diapers. Or here's a way, coffee shop, you can sell more coffee, more than the next door by recycling your coffee cups.
So I always believe small action by many can cause a big difference in the future. So I think, yeah, keep this mind.
There's a desire for boldness, and bold visions, and often the reality is that that's very, very difficult to make happen. And so I am also really interested in this idea of like what I kind of think of as like tiny design or these incremental improvements. And I think part of that, for designers, is understanding that, like, we actually don't in these complex systems have control. But we can be part of that ripple effect.
I find that quicker I can put something in front of somebody to react to, the sooner we can get to what is actually going to be, a better, more contextualized answer, that could be tested.
I'm really interested in processes making the invisible visible. So, what are the kind of ways and approaches we try to really bring some of these social structures, contradicting social structures, out into the open. Whether that's kind of mapping things visually all the norms and rules and roles that we have in our daily lives, or playing them out in role play, and then calling out what what are these underlying social structures and kind of naming them as a way to bring them to the surface.
I see the intersection between critical making as an exploratory practice and service design as a more pragmatic practice. That that's the, that's the unison that really creates good outcomes and good opportunities.
Charlyne Lefebvre-Paillé:
I think it is a very inspiring place to come for vendors like myself, for people working in agencies, or just people that closely could be related to delivering a service. It's a great place to come and refresh and get new ideas.
The Say Yeah Team was thrilled to attend the
Service Design Global Conference (SDGC)
at the Evergreen Brickworks in Toronto.
Our team devoured SDGC's inspiring workshops, talks, and activities. We returned rejuvenated and raring to go – all thanks to the conference's timely talks on key service design perspectives.
Thanks to the SDGC's openness and collaborative approach, we had the pleasure of interviewing many global leaders in the service design community, which we've assembled in our recap video above.
Here are our conference highlights!
Cognitive psychology in service design
Integrating knowledge from other fields—like psychology—can take a service designer's practice to the next level. Livework's Service Designer & Behavioural Expert, Anne van Lieren, highlighted how service designers use cognitive psychology to better understand user behaviour, and to identify (and hopefully eliminate!) their cognitive biases while analyzing their research.
We caught up with Anne to learn more about her expertise in the subtle art of 'nudging,' which is her core area of research.
Anne defines nudging as a process that designers use to influence their users' subconscious decision-making:
"With nudging, designers add things to (a person's) environment to help (them) select the desired outcome."
Nudging helps product design by guiding users through 'flows' in a more intuitive way.
We'll be digging into this more in a future post. Stay tuned!
Connecting authentically with users
SDGC also ignited thoughtful, thorough, and sophisticated conversations about new and evolving methodologies for service designers. Thanks to SDGC's strong roster of presenters, we were challenged to consider moving beyond personas, and to dive deeper into user needs.
For Steph Hay, the VP Design of Integrated Experiences at Capital One, trust and empathy are key to ensure products serve the customer, truly. In her talk, 'Designing for Trust,' Steph urged the designers in the audience to embrace the emotions of their users. For instance, when you're making a financial transaction, this can be accompanied by a strong emotional reaction—from fear of fraud to happiness. Understanding this emotional context allows the language you use in an interface or other interaction with the user to be aligned their state of mind.
Making sense out of complex service systems
As service designers, we are even more committed to work across complex internal and external systems of service delivery, which often requires us to consider tackling the mix of different stakeholders and user needs.
IBM Watson Health's User Research Lead, Charlyne Lefebvre-Paillé, addressed this in her talk 'Creating Meaningful Experiences Through Complexity', speaking to how service designers can work amid complexity. She cited this as a key factor to success in transitioning legacy or monolithic organizations into design system based orgs.
Continued learning from across the Service Design Network
The Say Yeah team found SDGC to be especially valuable for connecting with the broader service design community. We encourage other service design practitioners to join the Service Design Network to learn from this worldwide community through online discussions and local chapter events.
And we'll be sharing more details and videos from this year's conference over the coming weeks here and in our Disrupting with Digital LinkedIn group.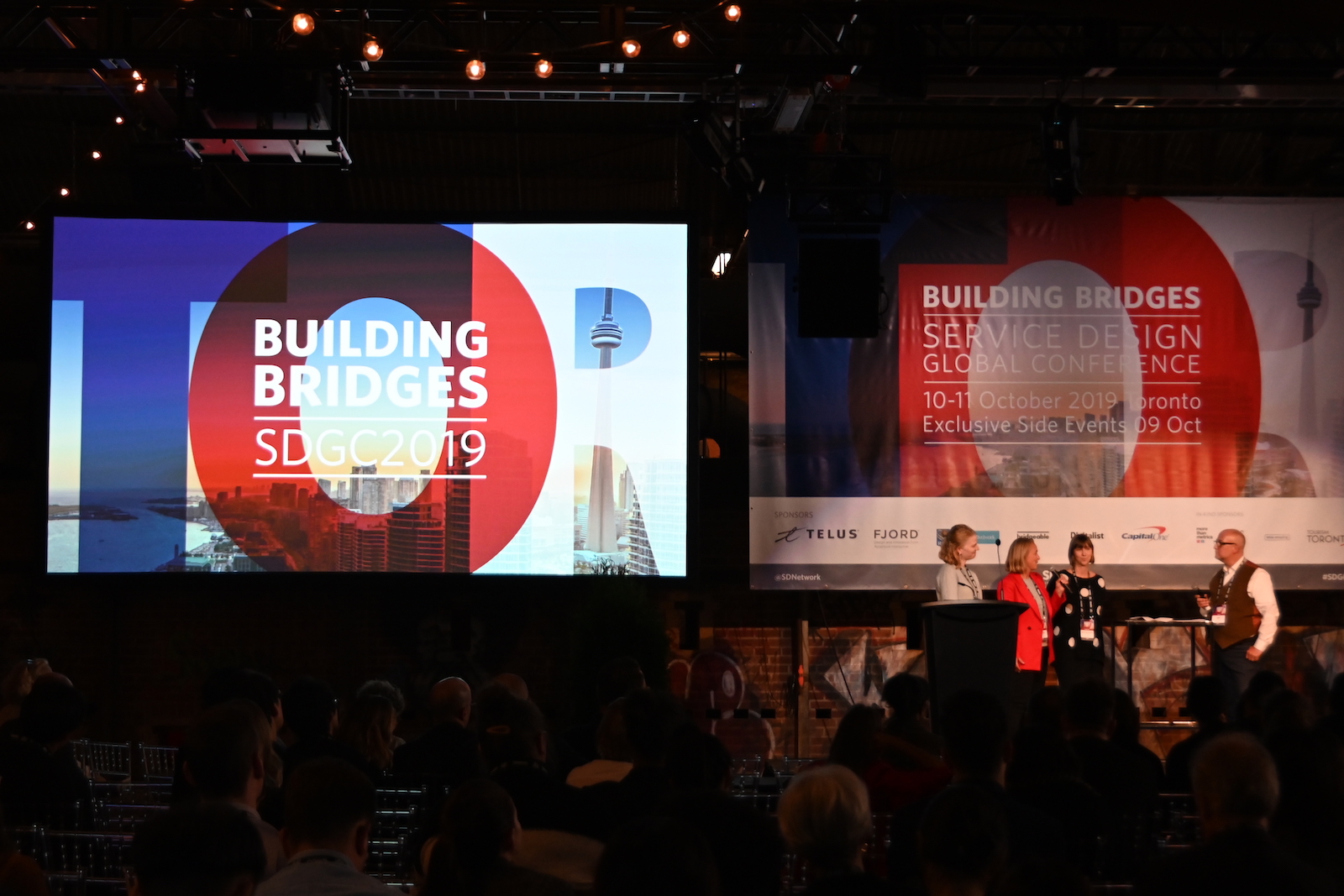 ---
From uncovering new market opportunities to finding new efficiencies through tech
We're here to help explore innovative ways to improve service delivery and customer experience.