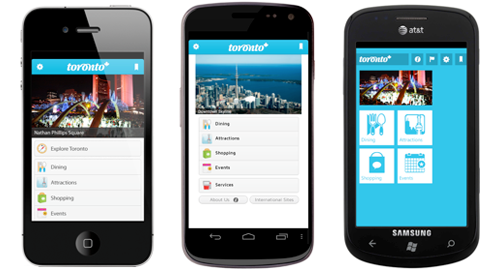 Design and implementation of a cross-platform consumer mobile app for Tourism Toronto.
We began discussions with Tourism Toronto in the fall, with an eye towards publishing a heretofore non-existent mobile app by the end of November. A next to impossible timeline were it not for our development collaborators at Discover Anywhere Mobile (DAM).
Working closely together to understand DAM's existing tourism platform, services, and general tourism guidelines, we began discussions with Tourism Toronto around their market (mostly Ontarions venturing to the big city for an enjoyable weekend), their members (businesses who pay for a variety of marketing, material, and promotional benefits), and their goals for users to understand how we could help take Tourism Toronto mobile.