Digital is complicated. Many steps and many different levels of expertise are needed in order to execute effectively, and cultivate digital maturity.
To succeed, methodology matters. Human-centred design and lean and agile processes are essential because, with digital, we have the ability to learn from data and adapt quickly to current and evolving customer needs, and increasingly savvy customers are expecting more of the organizations they engage with, regardless of device or channel.
Core areas of expertise required to successfully practice digital excellence
Interaction design
System architecture
Build
Launch and promotion
Having competency across each area of expertise is essential to success. Considering the process as linear, from research through to continuous improvement, it's important to note that a failure or issue in process, methodology, or outcome earlier in the process increasingly undermines the efforts that follow.
If you have a sound strategy, you can more likely afford to have execution in delivering product to market. While you'll be scuffling in trying to optimize your team's efforts to improve customer experience and service delivery, you'll at least have a solid foundation for capturing market share. But failing to align organizational capabilities with market needs during the research and strategy phase means you're building the wrong product altogether. This means massively wasted design, engineering, and marketing and sales efforts.
Cultivating digital maturity
It is essential to understand the depth of detail required at each phase. With many facets of expertise falling under each phase, we've built our consulting practice on helping you learn and execute in these areas.
Our core service offering provides the framework you need to foster best practices within your organization and captures immediate value in improving customer experience and establishing new service delivery efficiencies.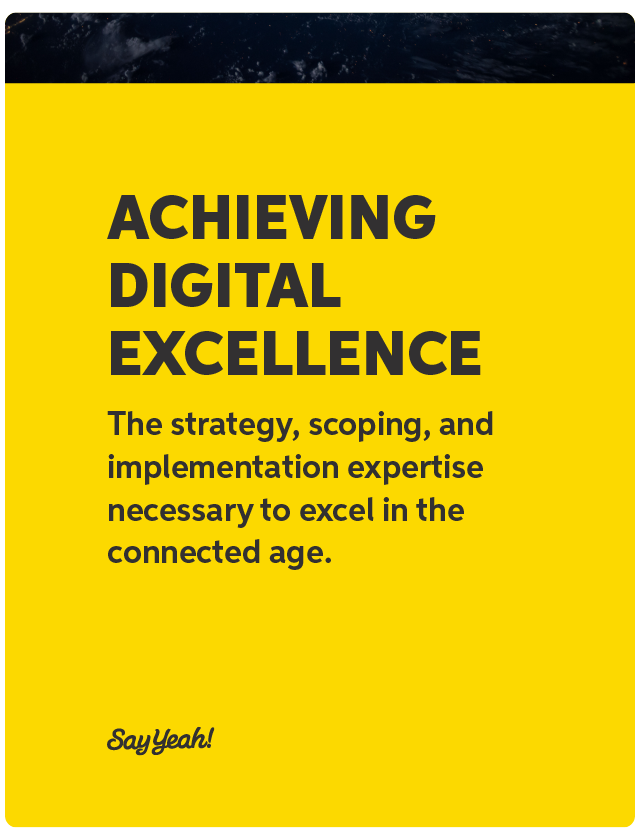 The strategy, scoping, and implementation expertise necessary to excel in the connected age.
Download the PDF
Are you ready to leverage digital transformation consulting to improve customer experience and service delivery?