With ubiquitous connectivity—from people to machines, computers to smartphones, and any other device you can imagine—insights, impressions, and engagements can be gathered, shared, and acted upon like never before.
In this connected age, customer experience excellence and service delivery efficiencies are the two greatest areas of opportunity to capture and grow market share and stave off disruption.
It's the quality of processes, analysis, and path to implementation you undertake that will help your organization not just survive, but thrive in the connected age. That's where digital excellence becomes table stakes for your success. And that's where we excel.
From communications to product to organizational efficiency, operating online involves significant depth of expertise. Digital channels and customer touchpoints extend beyond online to in-person and at home, widening the scope of understanding required to engage with customers.
To succeed, methodology matters. Human-centred design and lean and agile processes are essential because, with digital, we have the ability to learn from data and adapt quickly to current and evolving customer needs, and increasingly savvy customers are expecting more of the organizations they engage with, regardless of device or channel.
In order to begin to realize the success of digital efforts, key tenets must be understood and followed. The purpose of products and services is essential, where we work to define outcomes over features, whom those outcomes will serve, understand user jobs-to-be-done and work to serve these, while also framing product and service around organizational requirements and benefits.
Taking a wider view, this means that focusing on individual projects or products is not enough. Omnichannel means considering all the ways a customer may interact with a service. System strategy provides a framework for aligning organizational efforts and capabilities with market needs. And digital doesn't just mean technology, but encompasses service models, outcomes and KPIs, governance and service delivery processes, customer engagement, and more.
From research to strategy, content to engagement, design to technical expertise, service delivery to continuous improvement, competency in digital across an organization is essential. Most organizations employ a variety of approaches towards making service and technology decisions, some more collaborative than others, some highlighting more or less technical expertise based on project teams. Bringing in-depth digital capability to all strategy and project planning teams is essential in understanding the impact digital can have on a project and covering all the requirements to define a product or service and ensure a successful implementation.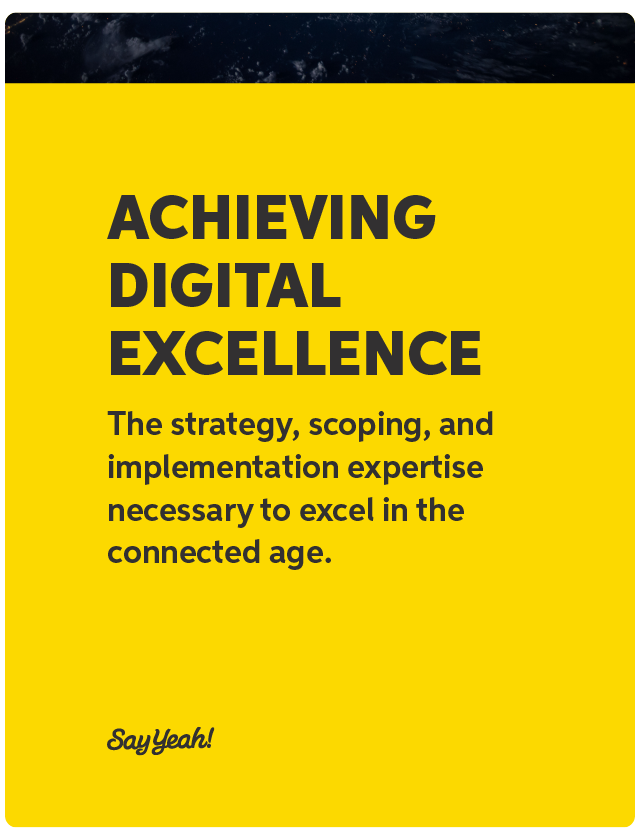 Our guide to achieving digital excellence
The strategy, scoping, and implementation expertise necessary to excel in the connected age.
Download the PDF
Success in the connected age requires a breadth of expertise
Your organization needs a depth of digital experience across a wide range of skill sets. Here are the key areas of capability we can help you excel at.
Contact us today to discuss how we can work together