Topics covered
---
Common digital transformation practices
As digital transformation has been an increasing enterprise and public sector priority over the past decade, we've been charting industry-wide progress in meeting digital transformation objectives across both operational and consumer-centric areas of service. Working with organizations across myriad industries over the past decade, from enterprise to startups, public sector to not-for-profits, we've seen some common patterns emerge in how prepared and capable organizations are when it comes to digital transformation and digital excellence. A key part of our service design and product strategy work is executing an organizational digital maturity assessment. By measuring the digital maturity of an organization, we can gauge where challenges in planning, decision-making, and execution can be expected, and work with this knowledge to support improving service delivery and customer experience.
For years this has formed the basis of our work in helping organizational "level up" in the processes they use to develop more capable teams and improved product and service outcomes. But this is not enough.
Digital and technology literacy training, service design and product strategy processes, and mapping organizational ecosystems and markets, however mature these processes may be, have historically been modelled based on an 150 year old myth.
This presents a challenge for organizations of all backgrounds when they're growing their digital capability through training and hiring, and continuing age-old practices that underdeliver value.
So let's take a brief look at this myth and how it's impacting your product and service offerings.
The 150 year old myth that's screwing up your service model and product strategy
There's a commonly held tenet that by designing for the "average" person we can serve 80% of the market. That we need to focus on the "average" and avoid the edge cases for efficiency and scale.
Why is this a fallacy? Simply put: because there is no average person.
As a species, we have never looked like, been built like, or acted like any kind of average. Certainly, societal ideals and standards of behaviour lent a false credibility to the average fallacy over the decades.
But as we have accelerated our geographic and cultural mobility toward multiculturalism, pluralism, and mixed relationships, the lines have been radically blurred from those legacy ideals.
And an increasingly self-aware society blurs those lines even further in recognizing gender identifies, neurodiversity, and other characteristics and behaviours. Characteristics that move us so beyond a possible average that we can hardly justify grouping people into any kind of archetype or persona.
"Personas often contain a compilation of 'average' characteristics that, put together, actually represent no one." ~ Margaret Price, Kill Your Personas, Microsoft Design, 2018
This is made all the more complex because, even as individuals, we are hardly static in our own behaviour, beliefs, and identities, which can change by mood, life status, or simply day to day needs.
This means that when we design for the average we are increasingly designing for no one. That impacts the quality, capability, and credibility of our products and services themselves, how we articulate value to markets, and how markets perceive those products and services.
Thankfully, there is a better way. And that is to work to serve the diversity of the markets your organization operates in by thinking individuals over archetypes: moving beyond the average, beyond the archetype, and working toward understanding all the nuances of individuals. Embracing fluidity, intersectionality, and a diversity of market. That's what diversity, equity, and inclusion helps organizations achieve, and that's why it's the only path to effectively serving diverse markets and the individuals who are a part of them.
To get there, you need to work through a series of processes that are baked into our DNA to reshape your organization and outcomes. But before you make the leap to process and activities, understanding where your organizational maturity sits across the three levels of inclusive maturity is the knowledge you'll need to highlight gaps, opportunities, and priorities. In other words, as much as it's important to uncover and track an organization's digital maturity, so too is it essential to understand and shape your organization's inclusive maturity.
So let's look at those three levels of maturity on the path to diversity, equity, and inclusion excellence.
The three levels of inclusive maturity
Many companies have embarked on their own diversity, equity, and inclusion (DEI) journey. With plenty of data and examples of how more diverse workforces can deliver more effective products and services, for-profit and public sector leaders have been working increasingly hard to bring these capabilities to their organizations.
In a study done by Boston Consulting Group, "companies with more diverse management teams have 19% higher revenues due to innovation"- World Economic Forum
In addition, when companies are more diverse, they inherently are more likely to innovate outside of existing solutions, driving significant increases in revenue for the company, and better product and service outcomes. Companies with above-average diversity had nearly 20% more average revenue created from innovation. 
When organizations begin their DEI journey, they typically begin a 3-step journey across three levels of maturity, which is not to oversimplify this journey. There are challenges at each level and they cover distinct organizational units, each requiring leadership support to achieve success.
Let's look at these three levels of maturity in detail.
Level 1: Recruit a diverse team
This is a natural place for an organization to start their DEI initiatives. When leadership understands the value of establishing a more diverse workforce, recruiting is tasked with reaching out to a broader spectrum of candidates, and the path to inclusive maturity begins.
The objective: you have a homogeneous workforce, therefore you look to hire a diverse workforce.
From a process point of view, your organization will establish inclusive recruiting processes to fill gaps in the current mix of employees. This involves being intentional about how you present the organization, job opportunities, and how and where you post opportunities. This will include reaching out to organizations, communities, recruiters, and established educational institutions to connect with a broader range of potential recruits. You may go so far as supporting or establishing additional training and youth programs to support a next generation of diverse talent. You will absolutely review hiring practices, tackle topics like unconscious biases, and be considerate of wage gaps and opportunities for people who do not identify within the makeup of your currently homogenous team.
The challenge: you hire a diverse group of people, but they are not welcome within your culture.
Hitting this Level 1 wall is a big hit to your organization. All the effort that's gone into recruiting and hiring practices is undermined if those hires aren't supported once they start work.
Diverse employees who are brought into homogenous cultures last an average of 6 months before they need to get the heck out of there!
Think of how this impacts an organization: recruiting efforts are costly; then you train to get people up to speed. You bring excellent talent into the organization and have the opportunity to learn and improve from their experience and unique perspective in your otherwise homogenous culture, but they are not only not set up to success, but chances are you'll lose them within months.
Not only is there the cost of a failed hire, but there's opportunity cost here in failing to deliver product and service enhancements because you lose that expertise and perspective.Worse still, you risk losing access to entire employee markets if your corporate culture is deemed toxic for some people.
As a result, you must mature into establishing a welcoming corporate culture.
Level 2: Establish a welcoming corporate culture
There's a natural progression here. As you hire more diverse employees into a homogenous culture, you need to establish protocols and processes to support this more diverse group of individuals. When people can bring their authentic selves to work, have the comfort to be themselves, and feel a sense of belonging, they can excel. More importantly, they can dramatically impact the capability of the team to deliver exceptional products and services.
A report on the importance of belonging in the workplace noted that " Feelings of belonging have been related to a variety of positive work behaviours and, for some employees, can be an even greater motivator than compensation. In addition, scientists claim that humans cannot be healthy—emotionally, mentally, spiritually, or physically—without feeling connected to others. Consequently, implementing belonging strategies will result in organizational benefits." ~ Feminuity, "What about belonging?" report
There's been a lot of tech community work, research, and practice around efforts to establish processes around developing more inclusive work cultures. Internal organizational priorities within Human Resources—and the advent of the Chief Diversity Officer and related roles—have led to significant capability and focus in achieving inclusive cultures within organizations.
The objective: through inclusive workplace practices you develop a more welcoming and inclusive work environment.
This has helped address the retention issues of Level 1 focused organizations. Where inclusive workplace environments retain diverse talent and offer an opportunity for people from many varied and intersectional backgrounds to succeed.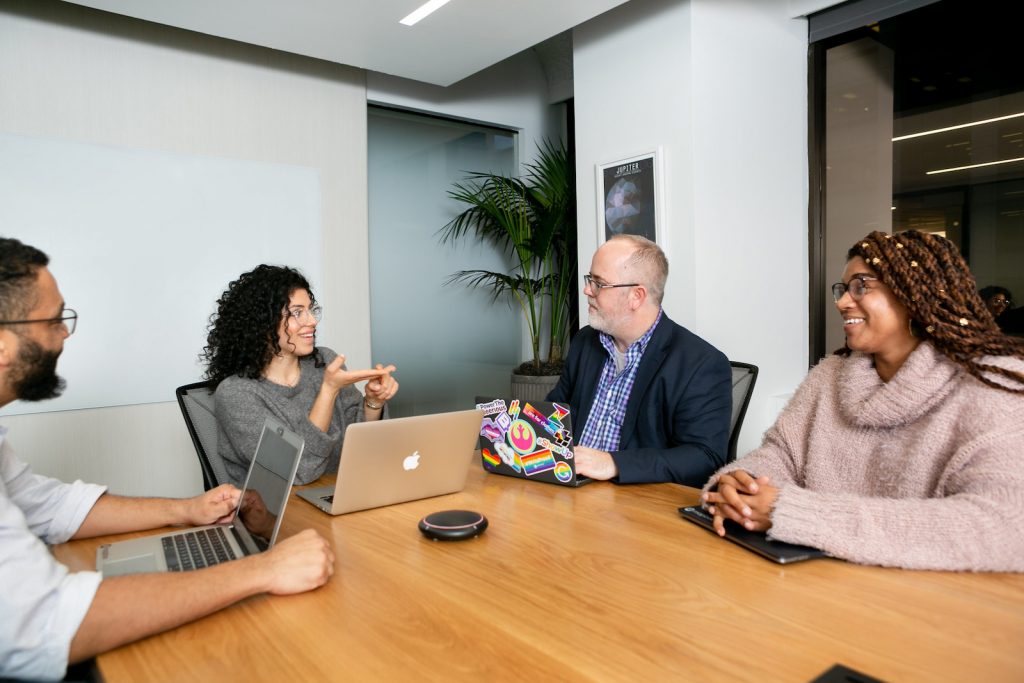 In fact, established diverse product and service teams are both empowered to and successfully shape product and service. However, it's not enough to attempt to build a diverse organization in the hopes that the outcome is a product or service that meets the requirements of a diverse market.
The issue being that even with a more diverse team, two factors come into play:
Teams default to designing for themselves. The more diverse your team, the more likely they'll develop products and services that serve a greater number of people because there are different voices, different experiences, and different perspectives at the table.
But the complexity of the market means that you can't hope to hire a diverse enough product and service team to serve all the facets of the individuals that make up that market by relying on your team to naturally meet all those individual and intersectional expectations.
Serving the varied individuals that make up a broadly diverse market doesn't happen by accident, it requires intention to move beyond an internal team and connect with the people the organization serves directly and authentically. And that's where Level 3 of inclusive maturity becomes a necessity.
Level 3: Design inclusive products and services
Level 3 is all about intention. There's a clear segue from recruiting to establishing a welcoming workplace. You're focusing on strengthening, growing, and scaling your internal capabilities in order to deliver better products and services. But the very nature of this relationship between Level 1 and Level 2 highlights the gap: it's insular. You're focused on your internal culture, and missing how your organization manifests itself to the market.
The key to Level 3 is shifting perspective from inside the organization to who the market is and being intentional about engaging with the diverse individuals who make up that market.
The objective: by establishing practices to engage in an authentic manner with the diverse makeup of your market, you can provide products and services that capture more market share.
The requirements to achieve this objective include having a comprehensive approach to delivering products and services that focuses on usability, accessibility, and inclusion. Together, these core values ensure that no user is left behind, and your products and services thrive by serving a diverse market.
---
Usability: ensuring a frictionless, engaging, and delightful experience.
Accessibility: ensuring there are no barriers to serving someone.
Inclusion: welcoming diverse market segments to engage authentically with your organization.
---
The challenge: product teams have to break the cycle of designing for the average and find ways to connect with and serve diverse individuals.
Breaking the cycle of designing for the average through personas and archetypes is a challenging effort for most product teams as it goes against much of what has been taught and learned. The best product and service teams have taken steps through methodologies such as use cases, jobs-to-be-done, and the behavioural objectives and outcomes of users. But this still is not enough if there aren't processes to welcome the broad spectrum of the market into the discussion.
Diverse product and service teams have the added benefit of already having some breadth of the market in the room by virtue of the different voices and perspectives they already have in the room, but if the tendency remains to just design for the voices in the room, the market will still remain underserved.
That's why it's so essential to follow inclusive design practices that go beyond Level 1 and 2 DEI objectives. And be intentional about connecting with and learning from the diverse people who make up your market.
What can you do to level up your inclusive maturity?
By implementing inclusive practices within your organization, from recruiting to workplace culture to inclusive design practices, you'll be prepared to serve more diverse markets more effectively.
Understanding your organization's inclusive maturity at each level is the knowledge you need to uncover the gaps, opportunities, and priorities that will help you connect and capture the full scale of the market you serve. This knowledge sets you up for being more capable and intentional with your DEI strategy.
Organizational assessments and inclusive design practices are baked into our DNA.
Let's talk about how we can work together to level up your inclusive maturity.