Last week I wrote about the pro's and con's of moving to Tumblr. Now that we're here and all settled in cozily, I'd like to focus on some improvements to the system that we'd love to see.
Author bios
Tumblr doesn't have a place where I can write a little bit about myself. As our colleague Danie-j said when she was hacking together her blog "What's the point in putting a blog up if no one can contact me?" With Khoi Vin and John Gruber lamenting this on their recent posts, the lack of identity on Tumblr is being noticed outside the community as well.
In fact, in order to get my name & photo in the sidebar (look left) using Tumblr's theming variables while maintaining the Say Yeah design standards, I've had to change the name and avatar of my primary Tumblr blog.
We also lost the ability to show all the articles by a specific author, which we had on our previous platform (see image below). This means we can't show how active our authors are or collect their posts together for easy reading.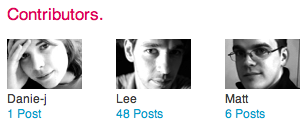 It's also unclear what order Tumblr is putting the authors in. It appears to be completely random; neither alphabetical or in order of when we added them.
Tumblr is all about content, but doesn't have a home for information about the people creating the content. The addition of user profiles would be welcomed.
Multiple layouts per site
In the interest of simplicity, I can see why Tumblr sites only support one template. However, with the addition of pages, and more complex data types, allowing me to specify base layouts for different sections of the site would be welcome. It's not necessary in the majority of simple blog sites, so I understand why it's not available.
That said, with the absence of more Author Bios, we thought we'd build some custom bio pages, pulling in Twitter feeds and other content. There's simply no way to do this without supporting more than one template.
While we're on the topic of programmatic wants, it would also be nice to have page level variables passed through to the templates, to allow for page specific CSS. For example, highlighting the current page a user is on in the menu. To handle this for now we've had to use Javascript, which isn't exactly ideal.
Queued daily
The queuing feature is great. We can line up articles for the week, and get back to our daily lives. The only trouble here is that there is no option to exclude weekends (or any specific day for that matter).
As a result, we've had to opt for the more granular control of manually setting post dates for each article. With multiple authors, it would be easier to manage if we could just throw everything into the queue and have the system sort it out but, as a business blog, we don't see much benefit to posting over the weekend.

Items in the queue note when they'll be published in minutes, which is totally useless if the publish time is greater than one hour. It would be much easier to understand when something is going to be published if the queue used a date format like the one you use when you set the post date for the future. (ie, Aug 18, 10am). Instead, we see this:

Consistency for group blogs
Primary blogs have neat tricks like using your profile photo as a favicon. Not so on group blogs.
What would be really nice is having a quick edit button on each post. On your primary blog, you'll see these quick links in the top left:

But a group blog is treated like any other stranger's blog, so instead of having a quick edit option on Say Yeah posts, we've got this:

With no way to filter or search posts in the Tumblr admin, that means I have to scroll through dozens of posts to find the one I want if I need to edit an old one. A terrific waste of time!
Import options!
Of course, the most important feature if Tumblr wants to get existing blogs to move to their platform is to help users get their existing content on the system. Now that we're on Tumblr, we're not concerned about that, but man it sucked recreating all of the articles from sayyeah.com and ineedsugar.com.
So that's our wish list. Happy Tumbling!