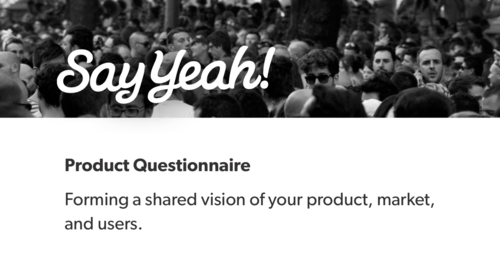 Whether you're working on an existing product or bringing a new idea to market, start the year off right by focusing your efforts on making sure you're delivering the right product to your most passionate and valuable consumers.
The free Say Yeah Product Questionnaire hits on several key touch points of delivering a product to market which serves business goals while at the same time meeting user needs.
With this document you'll consider:
What motivates you to deliver a great product.
Who your product users are.
The market you're playing in.
The product that can best serve that market.
The business goals that need to be met to ensure your success.
The personality your product and team expresses to engage your target.
What you've done to validate all of the above points.
With a review of those points, you'll be able to identify areas of strength and where further work needs to be done to ensure you're focusing your resources and your product appropriately.
This holiday season is a great time to begin working through our free Product Questionnaire as a refresher for your team and to help ensure you're on track in the new year.