When I walked into Startup Weekend Toronto on Friday evening, I had a simple goal – team up with some old & new friends, deny myself sleep, and build something cool. And that's exactly what happened.
In 30 hours, Satish Kanwar, Nate Garvie, Brian Gilham, Tony Wallace, Darren Butcher & myself put together the foundation for Task Ave, an iPhone application that reminds you what you need to do when you're in the area that you need to do it.
The idea sprouted Friday night over dinner. Satish and myself were chatting about ideas. I mentioned that I would love to build something that would remind me to get batteries when I'm at Canadian Tire, because I'm always forgetting to pick up things while I'm out.
Satish was immediately on-board, and within minutes he had come up with great ideas for our name and tagline.
I pitched the idea to the Startup Weekend crowd and we got some interest and great feedback. We assembled the beginnings of our team, two designers, a developer, a business specialist and an enthusiastic student. At this point we lacked the key ingredient of an iPhone developer, but undeterred, we went home to rest up for the big weekend of planning and building that lay ahead.
Saturday morning we hit the Ryerson POD building, still unsure how we were going to build an iPhone app without an iPhone developer. Not 10 minutes into the day, we were approached by Tony. The conversation went something like this.
Tony: I'm Tony, I wasn't here last night, but I'm a developer, do you need any help on your team?

Us: Hi Tony, we would love an iPhone developer.

Tony: That's my specialty.

Us: We love you.
In the hours that followed, we focused on building the minimum viable product for Task Ave.
We sketched out the workflows & wireframes, researched geo-location & mapping and created business & marketing models.
After working hard all day at Ryerson, we took off to the Jet Cooper office and settled into a full night of caffeine & pizza fueled work. By morning we had accomplished quite a bit, including,
A complete application UI, logo, website, and marketing materials;
A prototype of the iPhone app, connected to a fully featured REST API (that Brian is very proud of);
A business model, slide deck and testimonials.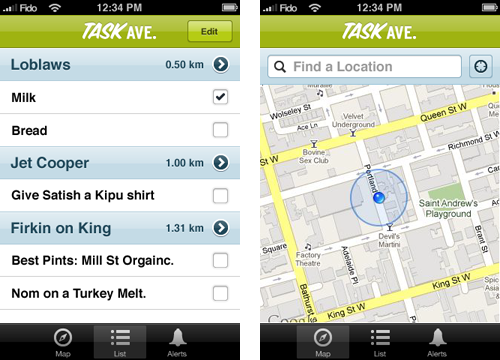 We spent Sunday morning perfecting our pitch and trying to stay awake. The day flew by and suddenly it was time to present. We were last up to the stage, and the competition was stiff.
Some of the great pitches included,
N20: Need Second Opinion, an iPhone app that connects doctors who need second opinions on patient care to other doctors who can offer them their expertise.
RateHub, a virtual mortgage broker that helps people find and negotiate the best mortgage rate possible.
Schedify, a scheduling Web app that takes the hassle out of creating and managing restaurant (and other retail) employee scheduling.
Vuru, a Web application for value investing that saves people time and makes them money.
Styllist, a website that allows people to hunt for stylish clothing online, and connects them to the local boutiques that sell the clothing.
Most likely to change the world: N20: Need Second Opinion
Congrats to Sean, Mark and the whole team!
Honorable Mention: Styllist
Third Place: RateHub
Congrats to Alyssa the RateHub team!
Second Place: Schedify
Congrats to Gabriel and the Schedify team!
Winner: Task Ave
The whole team is ecstatic that we won. We put in a ton of hard work in 30 hours, and loved every minute of it.
We hit up the after party at Black Moon Bar with the other teams to celebrate the huge success that was Startup Weekend.
In the past 24 hours, Task Ave has received a ton of great support and feedback from the community. You guys are seriously awesome. We're going to push hard to get Task Ave finished and out to you. The weekend may be over, but the fun has just begun.
I want to thank the organizers, Chris Eben, Karthik Soravanahalli & Ahmed Badruddin for doing a great job on the event. These guys put in a ton of work with the Ryerson voulenteers to ensure that Startup Weekend was a huge success. Thanks again!
If you're interested in learning more about Task Ave, checkout our slide deck over at SlideShare. You can also contact any of us on Twitter, we'd love to talk!
One last shout out to the Task Ave team, Satish Kanwar, Nate Garvie, Brian Gilham, Tony Wallace & Darren Butcher. You guys are awesome!