On March 29th, 2022, Strategy Institute will be launching its 8th Annual Digital Customer Experience Summit. This virtual two-day event will provide you with tips and tricks to improve your organization's customer experience (CX).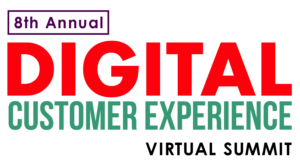 Catch the latest digital CX trends, how to maximize CX ROI, digital activities and data analytics to provide the best customer experiences, and how to leverage the link between content and SEO.
Participants will also have the opportunity to learn best practices adopted by PepsiCo, McDonald's, Porsche, Lenovo, Tim Hortons, AT&T, RBC, City of Las Vegas, LinkedIn, Mars, GoDaddy, and more, while networking with accomplished CX executives from reputable brands and over 450 CX thought leaders.
---
Here are a few sessions we'd like to highlight:
CX data and analytics
Customer data and related insights are a foundational aspect of ongoing product and services decision-making. We often find organizations struggle with knowing what data is valuable and how to leverage it towards improved customer experience. We expect these two talks will bring clarity on how to improve your data practices.
Day 2 Opening Panel Discussion: Actionable Insights – Harness CX Data Analytics for Actionable Insights That Drive Bottom-Line Results with Ashley Fitzgerald, Afshin Ahangar, John Ross, and John Oxford, Wednesday at 10:05 AM
Industry Expert: Harvesting Better Data – The Unstructured Data Goldmine: Target, Extract, & Share Value with Josh Snider, Wednesday at 11:45 AM
Customer journey best practices
Another typical organizational gap covered in these talks: unifying customer communication across all channels and eliminating information silos, often described as omni-channel, or a 360 degree customer view.
Industry Expert: Unify, Streamline, Connect – How to Build Better Customer Journeys with Amrit Dhangal, Wednesday at 10:40 AM
Spotlight Session: Powering Up Digital CX Journeys – Adapt Your Customer Strategies to Meet the New Digital CX: From Consideration and Applications with Kasia Bigda, Wednesday at 3:30 PM
For more information and the full conference schedule take a look at the event website.
---
Register today!
Tune in March 29th and March 30th for this exciting opportunity to grow your customer experience strategy.
Tickets start at $495 and include live access and networking as well as ongoing access to the conference recordings for up to 12 months.
---
Ready to bring new customer experience insights and practices to your organization?
We can help improve customer reach, engagement, and retention with our efficient, data-driven approach to product strategy and service design.